Nissan 180SX - GTR Frankenstein - It's ALIVE! Check out this monstrous 180SX that the mad men at Bee-Racing made into a GT-R!
Pop, pop, pop goes the misfiring system combusting in the yellow Bee-Racing Nissan R324 in the D1 Grand Prix drift series. Bee-Racing is infamous for creating machines that are a minor anomaly when it comes to a purpose-built drift car. It's safe to state that they definitely like to stay away from the norm. The famed R32 Nissan GT-R demo car converted to an FR configuration and displaying a R34 front end has become one of the most renowned cars in drifting today. The big boss Kiyonori Imai of Bee-R requires that all his shop cars sport the signature Bee-R Yellow to be recognized (and feared) in the industry. While many might refer to this taste in color as a slight form of insanity, they may be correct—but in a good way. On the outside, an automobile sliding through turns may totally look disorderly and like pure chaos, but inside, expert drivers and genius engineers have everything under precise control. Ever wonder why drifting is called the "controlled slide?"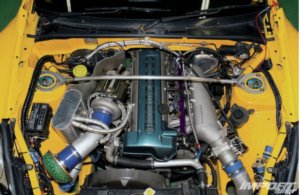 Recently, Imai debuted another fresh yellow 2JZGTE machine at the Drift Muscle series that sent a sonic boom through the entire world of drifting. Photos of an R35 Nissan GT-R in full swing sliding sideways emerged over social media walls all over the world, and, to car enthusiasts, there was something peculiar about the nature of this machine.
At first glance, one may think that Imai somehow disabled the AWD system of an R35 Nissan GT-R to make it rear-wheel drive. Nissan gurus were scratching their heads to know how and why such a thing was done to such a superbly designed vehicle from the factory. Upon closer inspection of spy shots discovered on Japanese blogs, it was revealed that this vehicle started its life as an RPS13 Nissan 180SX. Similar to swapping body styles on a radio-controlled car, an R35 Nissan GT-R shell was retrofitted on top of the framerail of an S-chassis. At this point, our gearhead brains were yearning for more details of this yellow jacket, but be warned, what was uncovered from our investigation may shock some of you folks.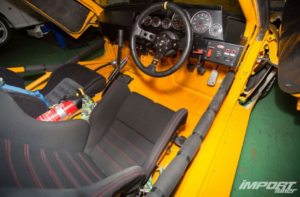 Apparently, the 180SX project was launched four years ago and took three years to build with the sole intention of Imai himself making an impact in the Drift Muscle series. He said, "My drifting has greatly improved over the years, so that's why I decided I needed a new machine." An estimated 9,000,000 yen ($90,000 USD) was invested into this project to shape it into fruition for Imai and his company, where his intentions were purposefully directed to make something that stirs controversy amongst the drift circuit.
Further revelation: A 3.0L Toyota 2JZGTE (Supra) engine was chosen to power this vehicle, since these units have been proven to be substantially robust even in factory form. Imai basically installed a set of Tomei camshafts, a GReddy surge tank, and a GCG Turbo kit, and called it a day. Other supporting engine mods included a Bosch fuel pump, Sard fuel pressure regulator, and Sard 800cc injectors. A custom-mounted Sard fuel collector tank sits behind the driver seat as well as the battery for preventing fuel starvation from extreme lateral g's and for corner balance, respectively. A Bee-R custom exhaust expels all the gas, but not before passing through a factory catalytic converter that's mandated by the Drift Muscle rulebook. An estimated 460 hp at 6,600 rpm is produced with over 368 lb-ft of torque with this setup, which should be plenty of power for Imai to learn to master. The entire engine is controlled by a trusty Australian ECU named Adaptronic and tuned by Imai himself.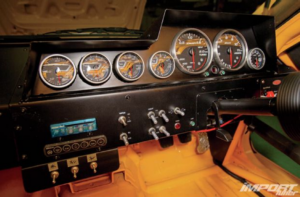 Since the 2JZGTE Supra engine was robust and handled plenty of boost in factory form, it wouldn't be effective unless it had a bulletproof transmission that came with it. Imai chose a Getrag V160 six-speed tranny since it was practically indestructible and it perfectly complemented the engine without any custom fabrication. The transition of rotational force is all taken care of by an Ogura Racing Clutch triple-plate unit. We predict that when Imai's drifting gets even better, he will most likely upgrade to a sequential dog-geared tranny in the near future, provided that he doesn't smash the immaculate R35 body into a barrier at Ebisu Circuit (knock on wood).
In the suspension department, a GP Sports basic coilover suspension kit was installed alongside a variety of Bee-R and Driftworks adjustable control arms. With a relatively conservative spring rate of 8k front and 6k rear, the 180SX didn't require coilovers that were overly exaggerated, since this setup directly correlated with the lightweight nature of the chassis. The wheel position and suspension geometry in terms of camber, caster, toe, and scrub radius didn't really need drastic alteration since the wheel base of both the R35 and S13 weren't all that different. The R35 body literally was a great fit on top of the chassis.
The stenciled Goodyear Eagle letters on all four corners of the tires makes excellent marketing exposure for the brand as well as reinforcing a motorsports feel of this machine. The 255/35 and 265/35 rubbers are mounted on a full set of 18x10.5 Enkei RS05 wheels, with R34 GT-R calipers front and rear.
Sitting in the cockpit of this machine is like being strapped inside a terrifying roller coaster. At standstill, the body builds up anxiety wondering what's in store. Once in motion, the adrenaline and testosterone overrides every neuro receptor in the brain for a seizure-inducing driftgasm. The only luxurious aspect on the interior is the foam rollcage padding and the FIA-approved racing seat. Let it be known that the Bride Low Max reclinable seat enhances vehicle control originating from driver perception and lowered center of gravity. It's clear that Imai had literally built this machine from the ground up since the rollcage, gauge cluster, and dashboard are all positioned for his personal preference. Perhaps subliminally surrounding oneself in a bright yellow cage gives the brain some extra adrenaline needed to plummet into a turn sideways at triple-digit speeds.
The final shocking piece of information that we had uncovered was the front opening bonnet and scissor doors. While true racers may frown upon these modifications, please be reminded that this is not your ordinary motorsport. Flamboyancy and craziness gets you more points in drifting. Imai and Bee-R must absolutely be commended for bringing the car to this level of spectacular caliber. Only in Japan is this kind of craziness openly accepted and copied across the world. But the door and hood hinges make the car heavier and slower, you say? No problem at all, Imai just needs to turn up the 2JZGTE boost!
Yellow is the color for insanity. As insane as they may be, Bee-Racing has managed to take a step aside from the boring norm and execute their visionary project into a tangible matter. The best thing about this machine is that no matter how much love or hate it receives, Imai can care less. He built his ideal machine, and it has plenty of potential for competition. That's all that matters. No wonder Imai is always all smiles. Keep up the craziness, Japan!