Nissan Juke Crossover World Tour
Nissan toured the world with its Juke R – a Nissan Europe project to cram a GT-R engine under the bonnet of a Juke. Today, though, we're touring the Midlands in something altogether more extreme. This is the Severn Valley Motorsport Qashqai R and it would leave the works effort trailing in its wake.
Tuning specialist Severn Valley Motorsport was responsible, briefly, for the world's fastest GT-R, the 1,250bhp Hulk, last year. Having seen the splash the Juke R made and seeing the potential to promote his own blooming GT-R tuning business, SVM boss Kevan Kemp walked into a Nissan showroom armed with a tape measure and the Qashqai R was born.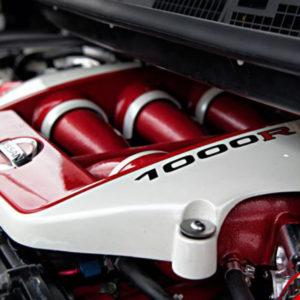 Under the hood lies SVM's most aggressive tuning package for the GT-R's twin-turbo V6. With capacity upped to 4.1-litres, it's capable of running on Ethanol and delivering up to 1150bhp, or around 950bhp on Super Unleaded. We plant the throttle expecting fireworks, what we get is Veyron-baiting performance and the sinister roar of a twin-turbocharged V6 that fills cabin as all four wheels scrabble hopelessly for grip through the first three gears. Drive the Qashqai R in a higher gear, with gentler throttle inputs and the only clue to that tidal wave of performance is a slight lumpiness to the engine. Drive it hard though, this is a monster.
CREDIT:
http://www.autoexpress.co.uk/nissan/qashqai/87780/svm-nissan-qashqai-r-1150bhp-crossover-driven