The New 2015 GT-R Turns Heads With New Features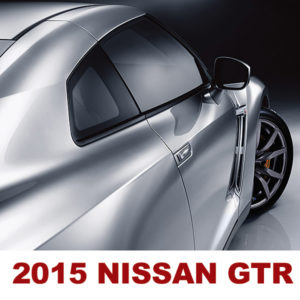 Multi-LED Headlights with Adaptive Front lighting System - Efficient, daylight-spectrum, multi-LED headlights create a distinctive "lightning" motif. But these four LED units do more than look the part. They adjust their illumination pattern based on vehicle speed, and cast a super-wide beam to enhance visibility, especially when cornering.
Hybrid Body Structure - To provide a rigid platform, Nissan engineers pioneered a unique hybrid body using high-strength steel, die-cast aluminum, carbon fiber and composite materials.
Precision Built - During assembly, "jigs" are used to hold body panels and components precisely in place. Vibration testing, laser measurements, and comprehensive inspections by experienced specialists are performed to ensure long-term functionality and to maintain the highest levels of accuracy and precision during assembly.
Hand-polished Finish - Unique to the optional Super Silver paint color is its extensive hand-polishing between each coat - performed under three different light sources, to reveal any imperfections.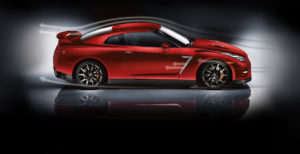 MAKING PERFORMANCE OUT OF THIN AIR
Aerodynamics
That big spoiler and all those scoops and vents aren't just there to look cool - they're all doing something. The spoiler is creating downforce. Those ridges on the air dam and vents on the back bumper are managing airflow towards the rear. The vents behind the front fenders are cooling the brakes and creating more downforce, and the scoops on the hood and the signature grille are cooling the engine.
IT'S ALL IN THE DETAILS
Underbody Aerodynamics
The average car has exposed working gear under the car, where wind whips around, creating lift, and slowing you down. The GT-R®, of course, isn't an average car. Its underbody is virtually covered by composite panels, giving it a flat, aerodynamic surface.
Underbody Airflow
At the front of the car, the flat underbody is accelerating the air and channeling it over the brakes, cooling them down. At the back, a carbon fiber diffuser takes that accelerated air and slows it down, creating a vacuum effect that helps the GT-R® stick to the road, or the track.
COMPLETELY CAPTIVATING, EVEN AT REST
Leather-appointed front seats are undoubtedly built for performance. These bolstered sport seats help keep you in place, while cutouts in the driver's seat cushion facilitate leg movement. Rev up the interior with a choice between Red Amber or Ivory with the Premium Interior Package featuring hand stitched semi-aniline seats.
UNCONVENTIONAL WISDOM
3.8-liter Twin-turbocharged V6 Engine
Hit the accelerator and you feel more than raw power. The 545-hp twin-turbo V6 has massive strength, but it's highly refined, even earning a ULEV-II emissions rating. Rather than traditional cast-iron liners, each cylinder features a unique plasma coating with an independent intake system for each bank of cylinders. The powerful twin turbo takes advantage of a Premium Midship (PM) design for balance, where much of the engine sits back in the chassis. Uniquely brilliant, built to perform.
Premium Midship Platform
By using a powerful twin-turbo V6 rather than a larger and heavier V8 or V12, the Nissan GT-R® exploits its PM design for ultimate balance. In the PM design, much of the engine sits well back in the chassis behind the front axle - for crisper turn-in, quick steering response and overall balance. The lighter, more compact engine also pays dividends in performance and other interior room.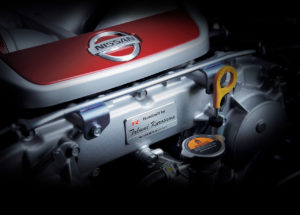 BORN ON THE RACETRACK
Handcrafted Engine
Every GT-R® engine is hand-assembled by a single technician - one of only eight allowed the honor - in a dust-free, temperature-controlled clean room. Once complete, the engine is tested. It goes through 44 minutes of bench testing and break in, where the engine is redlined for 10 solid minutes. When the entire GT-R® is built, it is put through its paces on the Tochigi Test track.
Master Driver
From the beginning, we knew GT-R® was going to redefine the breed in terms of performance, refinement and capabilities. So we brought together the AS Class drivers - the top development drivers at Nissan - to create a vehicle that would excel not just at one racetrack, in one kind of weather, or when driven by one master driver: this supercar would have to be for "anytime, anywhere," and be as rewarding to a novice enthusiast as it would to a veteran racer.
STREET WISE
Suspension
Handling duties are managed by a sophisticated 4-wheel independent suspension system mounted to high-precision 6-point front and rear subframes. A special Bilstein® DampTronic® driver-adjustable shock absorber system utilizes multiple vehicle information systems to provide appropriate damping forces and a high level of control for a variety of driving situations. ATTESA E-TS® All-Wheel Drive
Instead of the traditional 50/50 torque split between front and rear axles, the electronically controlled All-Wheel Drive system provides up to 100% of available torque to the rear wheels, and can send up to 50% of torque to the front wheels. This provides the steering feel and response of a rear-wheel vehicle, while giving the added confidence that only AWD can offer.
UNCONVENTIONAL POWER
Dual Clutch 6-speed Transmission
Two clutches, no clutch pedal. The GT-R® 6-speed sequential dual-clutch transmission shifts as quickly as 0.15 seconds when in R-Mode. Inside are separate clutches for the odd and even gears. When in an odd-numbered gear, the adjacent even-numbered gear is "pre-selected," ready to make the shift immediately. Then, to achieve ideal front-to-rear weight distribution, the GT-R® clutches, transmission and transfer case are mounted in the rear of the chassis, creating the world's first independent rear transaxle for an All-Wheel Drive vehicle.
Nissan/Brembo® Braking System
To complement its incredible horsepower and torque, the GT-R® features awe-inspiring braking power. The brakes feature 6-piston front and 4-piston rear calipers for stronger, more equal clamping power - something you'd expect to see on an all-out competition machine. For extreme rigidity with light weight, the caliper is machined from a single one-piece "monoblock" of aluminum.
BUILT FOR THE PURIST
2015 GT-R® Black Edition
The connection between driver and machine gets even more intimate with the GT-R Black Edition's supremely supportive and inspiring to look at driver's environment.
Dry Carbon Fiber Spoiler
This handmade, dry carbon fiber spoiler is significantly lighter and stiffer than a spoiler made of traditional or "wet" carbon fiber. What does that mean for the GT-R®? First off, lighter is better - every little bit of weight saved on the car means time saved on the track. Secondly, the added stiffness in the spoiler decreases flex and increases stability, which translates into more downforce and better handling.
Black/Red Interior
Please remain seated. Heavily bolstered and featuring integrated headrests, the Black Edition's black/red leather Recaro® performance seats keep you firmly in place even during the most intense cornering. Subtle red leather accents on the steering wheel, doors, and gearshift complement those distinctive seats, while the bold GT-R® logo in the center of the steering wheel adds a finishing touch.
BUILT FOR THE EXTREMIST
2015 GT-R® Track Edition
When GT-R® took its first screaming lap around the Nürburgring in 2007, we had the business of serious competition driving in mind. Today, we're still taking performance levels to new, earth-shattering heights. Introducing the 2015 GT-R® Track Edition.
Track-tuned Performance
The Track Edition features a stiffer suspension with specialized Bilstein® Damptronic® gas pressure shocks and higher spring rates. A front spoiler with carbon fiber air ducts increases cooling to the front brakes, and rear brake cooling has also been refined through extensive track testing.
Dry carbon fiber spoiler and trunk lid
A new carbon fiber trunk lid adds stiffness, while weighing nearly half as much as a standard trunk lid. Its smooth surface has been painted so you won't see a difference, but since lighter equals faster, you'll feel it on the track. Top it with the dry carbon fiber spoiler for mighty downforce, and increased stability.
The 2015 Nissan GT-R is available at Mossy Nissan locations in San Diego. Shop for yours today.