See what people are saying about Mossy Nissan!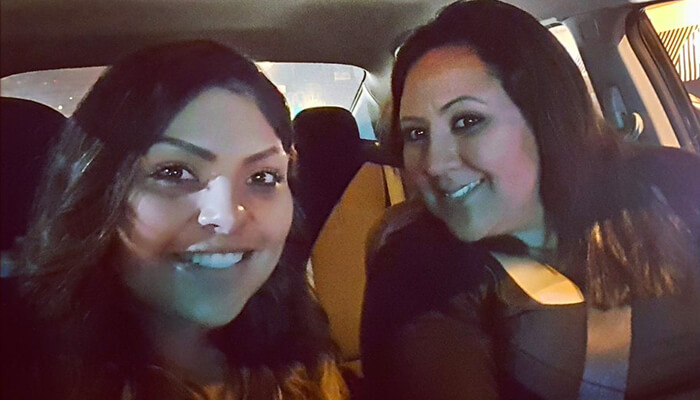 Erika Cruz. - Mossy Nissan Kearny Mesa
"Customer service is amazing. I got my car at Mossy Nissan in Clairemont in San Diego. Recommended to all my family."
Alyssa M. - Mossy Nissan National City
"My experience was very helpful and good."
Carmen G. - Mossy Nissan Chula Vista
"Excellent customer service in the service department and sales."
---
Elliot M. - Mossy Nissan Chula Vista
"Best customer service every time without fail."
Francis B. - Mossy Nissan Escondido
"Love my Rogue! Great buying experience at Mossy Escondido a great service at Mossy Oceanside! Totally recommend them if you are looking for a car."
Curt S. - Mossy Nissan El Cajon
"It was one of the best car buying experience that we have ever had when buying a car. The Leaf is fantastic."
---
Gerald C. - Mossy Nissan Oceanside
"Purchased a beautiful 05 Honda Accord EX V6 with 23k miles! This car operates like a brand new Accord, looks, smells and performs like new! I purchased the car from Tom, great salesman and friend. Thank you Mossy and Tom for a sharp looking, newer, low mileage car!"
Fransisco C. - Mossy Nissan National City
"Great deals. Very friendly. Easy to work with."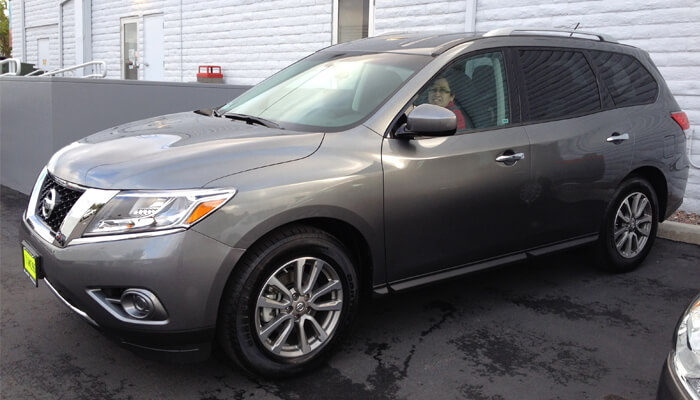 Patricia F. - Mossy Nissan Kearny Mesa
"It was great. Everyone was very helpful."
---
Brenda T. - Mossy Nissan Chula Vista
"Really helpful people... it was a good experience buying my first car at Mossy."
Isabel C. - Mossy Nissan National City
"Love the service and the staff"
Jasmine M. - Mossy Nissan Kearny Mesa
"The car was perfect for me!!"
---
Dave G. - Mossy Nissan Oceanside
"It was outstanding!"
Jeff L. - Mossy Nissan Kearny Mesa
"The sales team is exceptional!"
Kristian J. - Mossy Nissan Chula Vista
"Mossy Chula Vista was amazing. From the floor man to the manager, everyone was great."
---
Marissa T. - Mossy Nissan Kearny Mesa
"My experience buying my Nissan Sentra with Mossy Auto Group was great! I absolutely love my car, and the salespeople worked to get the car to the price I needed it to be."
Michelle D. - Mossy Nissan El Cajon
"As a first time car buyer, I appreciated the time took to help meet all of my budgetary and car needs... Great experience overall!"
Sonia R. - Mossy Nissan Oceanside
"Service department Oceanside has always been pleasant for me."
---
Steve H. - Mossy Nissan El Cajon
"Excellent, professional, courteous care!"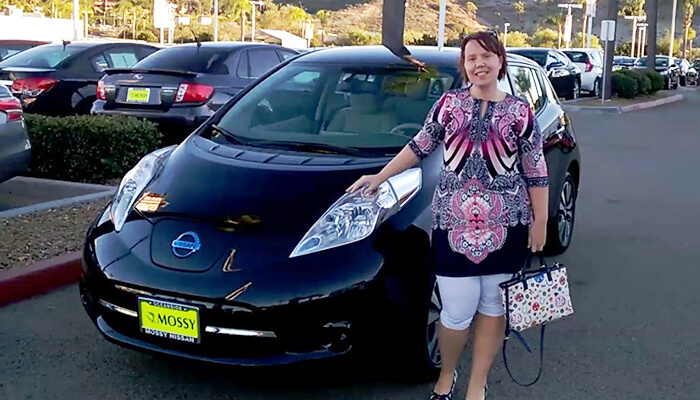 Wouter R. - Mossy Nissan Oceanside
"Had a pleasant experience with Mossy Nissan."
Alberto E. - Mossy Nissan National City
"It was great. I really got a good price and the person was helpful plus I got 3 free oil changes and I really love my car."
---
Kalisa W. - Mossy Nissan El Cajon
"I like the little car."
Mario O. - Mossy Nissan National City
"Great experience... really nice guys."
Michele D. - Mossy Nissan National City
"My experience has been nothing but good! :D"
---
Juan G. - Mossy Nissan Oceanside
"We recently just purchased 3 new vehicles from Mossy Nissan in Oceanside we had a great experience... best sale representative I have ever dealt with. No hassle, no pressure... Least to say we are very pleased with our purchase."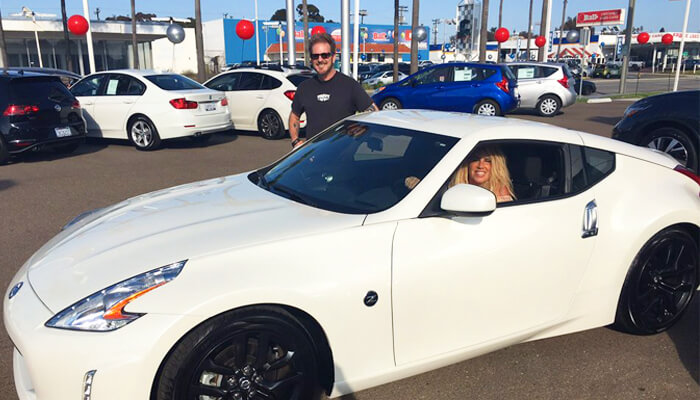 Julie R. - Mossy Nissan National City
"My husband and I were lucky enough to purchase my 370Z from the Nissan dealership in National City. The people who work there are all so professional and helpful. From Roger Dutra the salesman to Annette Ramirez the receptionist... everyone was great. They were fast and efficient and made purchasing my car a pleasure!"
Brandie A. - Mossy Nissan Kearny Mesa
"Best customer service yet. Thank you so much John and Tyler for your patience and for making me one Thrilled Nissan Customer!!"
---
Alexa V. - Mossy Nissan Chula Vista
"I'm so happy that Stephen was available and able to assist as his knowledge and sense of humor always is a key to make us feel comfortable in this big decision. All around I want to say this is the best dealer in looking to get a car, whether it's new, stylish or family growing in your current life. Everyone is so nice and friendly and never pushy or ignore customers requests."
Daphne S. - Mossy Nissan Kearny Mesa
"…not only did I get an awesome deal, on a sweet new awesome car, I also got to enjoy my leasing experience!"
Lorena S. - Mossy Nissan Poway
"Our sales rep Joey was very knowledgeable and made whole transition worthwhile.. Great teamwork and customer service."
---
Peter R. - Mossy Nissan Poway
"Joey was great, he helped with everything I needed and he pushed for me to get a great deal! I walked away happy and felt taken care of!! Couldn't have asked for a better person to help me."
Adriel B. - Mossy Nissan Kearny Mesa
"Went in to see about a Pathfinder and drove away with a pretty sweet ride. Hilario was a great help! Even though I was already sold on the Pathfinder when I got there, my experience with Hilario could not have been any better!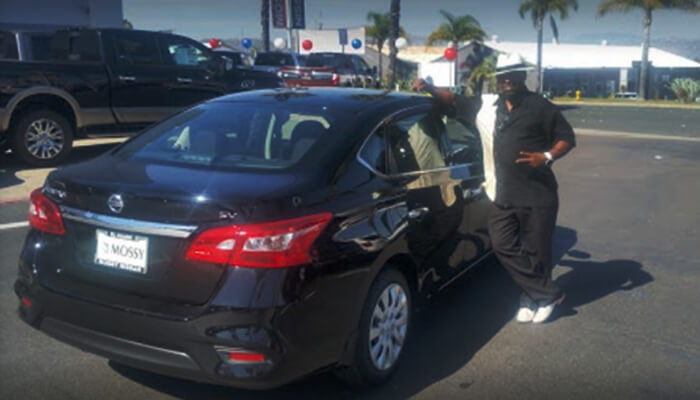 James J. - Mossy Nissan El Cajon
"Great Experience, Real Assistance, and Genuine Customer Care From All Staff."
---
Kristine D. - Mossy Nissan Kearny Mesa
"I'm a first time buyer and I MUST say that their service was amazing. If you're interested in buying a car or checking out a car, no pressure then please please work with Shawn! And if you do buy, go see Sam in finance! In the end, I never felt pressured into buying my car. They're looking out in your best interest, and wallet! Amazing customer service."
Gina A. - Mossy Nissan El Cajon
"Greatest experience ever! This was my first big purchase and my first brand new car and he made the experience so easy and stress-free! He was very straightforward and helpful when it came to answering all my questions. Explained everything very clearly. The manager, Michah was also so friendly and helpful! When it came to finances, I was satisfied yet again!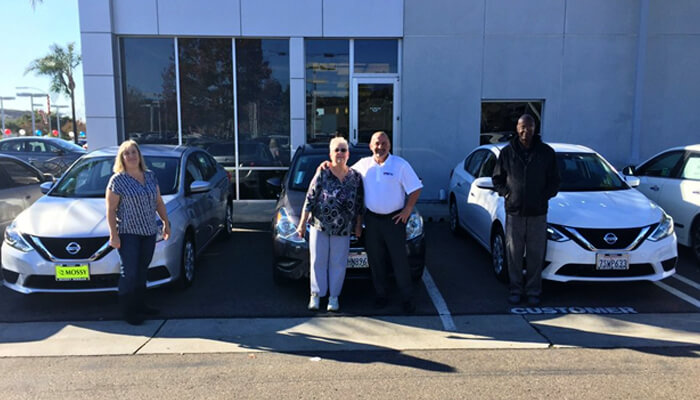 Barbara H. - Mossy Nissan Poway
"We have purchased our last 9 cars at this dealership. Bernie and Jim have always gone out of their way to get us a great deal. Today we bought 3 new /used cars and we couldn't be happier."
---
I went to Mossy Nissan Kearny Mesa. Tonya, the General Manager was great and asked Eddie P. to help me. I shared my wants and fears with Eddie and she showed me EXACTLY what I was looking for in the way of feeling safe. I was in a car accident over 2 years ago and have been afraid to drive, mostly because of blind spots. Eddie was great! He didn't try to talk me into anything I didn't say I wanted and was very easy going and a pleasure to interact with. He was very thorough in showing me the features that mean the most to me before I drove away. Every step of the transaction was opposite of what I was expecting. It was pleasurable experience and I even cried when it was over. I still can't believe they got me into the car of my dreams that takes care of the things I feared when I'm driving. A huge and heartfelt thank you to everyone who helped me get this beautiful Rogue. The level of comfort and safety I now have is priceless.
-Angela V. - Mossy Nissan Kearny Mesa
---
This is by far the best car dealership experience I've had. My salesman Steven was very busy and obviously in demand but he never rushed me and was patient through the experience. The sales manager Ali did not pressure me and he was extremely helpful and generous. In my past experience at other dealerships the sales manager is the "closer" in an attempt to get you way outside your budget. Ali was fantastic and extremely fair in my dealings. For me the finance portion is usually the worst at least in my experience. I never thought I would say this, but the finance portion was the most fun I've ever had at a dealership. Nick Torres is funny and kind. I couldn't stop laughing and thoroughly enjoyed the finance experience. I mean this is unheard of!! I would recommend Mossy Nissan of Oceanside to family and friends. I know I'll be back!! Thank you to the team at Mossy Nissan Oceanside I love my new baby!!!
-Moo W. @ Yelp
---
For great service, come see GABRIEL ZERMENO at Mossy Nissan Chula Vista!
I Initially brought my 370z via tow truck for a new key fob to be programmed as I misplaced my original. For whatever reason the computer was not responding resulting in leaving the car over night. I actually ended up finding the fob. Assuming I would be able to just drive my car out of the dealer, the following day I took an Uber from North County to pick it up. Come to find out that the fob no longer had the programming. Not having an appointment during what seemed to be the busiest time of the day, Gabriel assisted me. I explained my situation to the shop foreman and they squeezed me in. He came back a couple hours later (I was expecting to be here for the entire day) and advised that the task was complete. Oh and by the way, he said my car looked like it needed a wash so he ran it through the car wash. This is they type of service that earns my business. Thank you so much Gabriel. You are a great asset the the Mossy team.
- J.D. @Yelp
---
Everyone really has been professional, knowledgeable, and *dependable*. Dependable is tough to find. From my 3 years coming here, service area, sales folk, loaner car people, the shuttle staff all great. Great location and staff! A++Love Mossy Nissan Kearny Mesa. I'm not one to write reviews. This location is really spot on though. Everyone is really friendly and professional. Cesar has been amazing to me, walking me through any service items from inspection and various options for myself. The only thing I know about cars is how to drive one. Cesar presented me with options and helped me choose the specific technical choices from the general category I let him know I wanted (eg functional, not fancy/extras).
- Gabe S. @Yelp
---
Started out on a journey with Mossy Nissan Poway to obtain an inexpensive car that met the needs of my family. Both working with a limited budget and some financial hiccups, very little car dealerships would entertain my options. I essentially did the whole sale over the phone with Han Chen and scored a pretty good deal with my credit and Han even made the extra effort to personally deliver both my signing paperwork and the vehicle to my door.
If that wasn't enough, the car delivered didn't fit my needs and they worked out different options to make accommodations to resolve my vehicle issues, which is unheard of. Han and his team "my team" had my best interest in mind. They understood what troubled me and were able to get me not only a higher model vehicle that better fit the needs of my family, but a better loan with a lower APR. I couldn't be happier if I did it all myself...and the amount of work it took to make it happen. I am thankful to those whom made sure I didn't have to. Thank you Mossy Nissan Poway.
- Brian H. @ Yelp
---
From the very moment we inquired about the vehicle, the staff was very approachable and friendly. Mossy Nissan Poway is absolutely amazing. I couldn't imagine going anywhere else to purchase my next vehicle.
- Jaina P. - Mossy Nissan Poway
---
Finally after 20yrs and 230000 miles it was time to find a newer ride. Mossy Oceanside has a great selection of used cars and not just Nissans. I would recommend Mossy Nissan if you are in the market for a new or used vehicle.
- Flo N. - Mossy Nissan Oceanside
---
Great experience, bought a used truck and had a small issue after we got home, made a call to Arman our salesman and they took care of it ASAP. Will shop here first when looking for our next vehicle.
- Pat G. - Mossy Nissan National City
---
Trust them when they say " We got you covered, we are here to help you" because they did. These guys are awesome and I want to thank the whole team in general. I fully recommend them based on my experience and am sure that anybody else will find that a fact.
- Enrique G. - Mossy Nissan Chula Vista
---
I have purchased so many vehicles in my lifetime and had never thought I would ever give a 5 star review until now. Mossy is also a wonderful establishment that provides the uppermost customer service. You will be pleased!!!
- Nicolette R. - Mossy Nissan El Cajon
---
Just had my car serviced here and had a great experience! Matt in the service center is awesome. He helped me get some of the problems fix at their service center even though my car was under warranty from a different dealership.
- Lisa D. - Mossy Nissan Kearny Mesa
---
I just want to thank the whole staff at Mossy Nissan Escondido! Specifically, Christopher Harris, the Internet Sales Manager! Look this guy up if you are in the market for a new car!!!! We will NEVER shop from anyone else!
- Amber K. - Mossy Nissan Escondido
---
I was really pleased with our visit to Mossy Nissan. I really appreciated their customer service. Shawn Collins was so nice to work with and the GM Tim Mossy worked with my husband and I to get our monthly payments down on our new lease! I am also super happy with my new car- the Rogue SV. It gives us more room for our new addition to the family. I am bringing my baby sister here soon to get her a new vehicle as well!
- Natalie P. - Mossy Nissan
---
I highly recommend Nissan Chula Vista for your car needs. Their friendly and courteous staff is tremendous. The service department is exceptional. They really know how to take care of their customers. Our experience throughout our car-buying experience was better than we ever expected, and we were made to feel valued and all our questions were answered. Our positive experience carried over to our maintenance needs.
- Amy G. - Mossy Nissan Chula Vista
---
5 stars across the board! Every employee here is extremely helpful! Henry Samaniego helped us and fixed our problem with ease. Definitely making Mossy Nissan the dealership to go for any future problems
- Tyler O. - Mossy Nissan
---
I'd like to compliment one of your employees, Antonio Barajas, for the excellent service she provided me last week. Mr. Barajas helped me prioritize the immediate repairs that needed to be made at the time for my vehicle model: Nissan Altima 2005. I have always been pleased with the service I receive at your branch. However, Ms Barajas' professionalism and ability to get to the bottom of the situation quickly exceeded my expectations. Such a commitment to great customer service is to be commended. You can be sure that I will continue to do business with MOSSY NISSAN for years to come.
- Elsa B. Nissan National City Svc. Dept.
---
...Every staff member was professional, warm and caring and made me feel special. I have already recommended this dealer to my friends and family. I am pleased to say that I am one HAPPY CUSTOMER! Thank you so much and keep up the good work!!
- Sandra, Yahoo Local
---
Thanks, @mossynissansd, for taking such good care of us today. Everyone was super friendly and great to deal with. Leased 2nd Mossy car.
@elise29, Twitter
---
I'm going to make this short and sweet... if you want a Nissan... go here. I had problems with my car that morning, went to Mossy Nissan Chula Vista after work, and drove home that night with the car of my dreams.
- Breana, Yelp
---
(Mossy Nissan) hooked me up with a FANTASTIC deal that I couldn't turn down. I was given a great interest rate, and they ended up lowering it even MORE just for the [heck] of it. (I'm not even kidding.) They even gave me $500 for my Hyundai (that doesn't even work) to put towards my new car. How awesome is that?! Left the lot earlier this afternoon in a 2013 Nissan Sentra with a sunroof, navigation system, rear cameras, and other goodies. (Great rebates and NO down payment! Woohoo!) My mom ended up buying a brand-new car, also! They didn't even pressure her, and helped her with the process of trading in her Versa that she bought from them back in 2011. So my family and I left Nissan today with two 2013 Sentras!! :)
Needless to say, if you ever need a car, Mossy Nissan El Cajon is THE place to go in San Diego. They work with you to make sure you get the car you want at a price you can afford. My family and I will DEFINITELY be returning here to get new cars for my dad and sister. They made us feel like family, rather than just another customer walking in the door. I could seriously write a novel on how AMAZING my experience
- Ariana, Yelp
---
I got a great trade in value on my old car and was driving my new Altima in no time at all. The price was great and the whole staff at Kearny Mesa were great.
- Jet, Yahoo Local
---
"To make a long story short - I got a better deal than what I originally considered. An economical car with low miles, Certified, Title Insurance Policy, free Carfax, complete copy of all work done on the vehicle, complete copy of the 3rd party Inspection Report to certify the vehicle, a maintenance list of vehicle add-ons/changes & price(s), LoJack, Car Alarm and Window Etching - for $4k less than I planned. I totally appreciated this place. They made my headache of trying to find a safe vehicle for my daughter and I go away."
- Kimiko @ Yelp
---
"The best car buying experience I ever had!!! The attitudes of everyone I came in contact with were so friendly. It was a breeze. I definitely would go back!"
- A Google User @ Google+ Local
---
"Price, value and location. This place has a variety of cars with no haggle or hassle pricing. They also have a decent service department."
- Arnel @ Yelp
---
"Service was outstanding!!!!! I had my truck serviced the other day and had a great experience. The customer lounge was clean and comfortable, nice big screen, free coffee, my oil change took 32 minutes from key in to key out."
- MtnBykng @ CitySearch
---
"When I purchased my Nissan Versa SL, I did so with baited breath. It was the first brand new vehicle I had ever purchased in my life, and having heard so many horror stories from friends and family over the years, I was prepared for battle. As it turned out, no battle armor was needed. Not only did the sales staff guide me through the car buying process, they also informed me of a sales incentive I was not even aware of, and they, as well as the parts and maintenance staff, made good on everything they promised. Mossy assigns one person as your "go-to" whenever maintenance is needed, so I don't feel like a number when I show up. I still love my Versa, and whenever its time to schedule maintenance, the staff are always friendly, courteous, and helpful."
- Peggy @ Yelp
---
"Could not be more pleased. They are very honest and don't try to upsell. They take great pride in their work, even down to the complimentary car wash & vacuum. They are also mindful of what will result in the best value to the customer."
- A Google User @ Google+ Local