Nissan ROGUE:
TAKE THE ROADS LESS TRAVELED
It's called "intelligent" AWD for a reason. This advanced system can tell if you are cruising, or cornering. It can sense a loss of traction under a specific wheel or wheels and redirect torque automatically. For even more confidence behind the wheel, Rogue is equipped with Active Ride Control, Active Trace Control, and Active Engine Braking.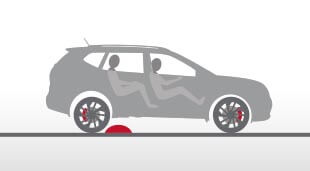 Active Ride Control
In the event you're jostled by a bump in the road, Rogue's Active Ride control system kicks in. It works by automatically applying the brakes and adjusting engine torque to help smooth the impact, helping you stay composed and comfortable.
Active Trace Control
By selectively applying Rogue's brakes when cornering, Active Trace Control can automatically engage the inner or outer brakes, optimizing your line through turns.
Active Engine Braking
As you apply the brakes, Rogue's Active Engine Braking system adjusts torque to slow down the vehicle while enhancing control and stopping confidence.