Watch the fastest Nissan GT-R in the world hit 250 mph in 22.6 seconds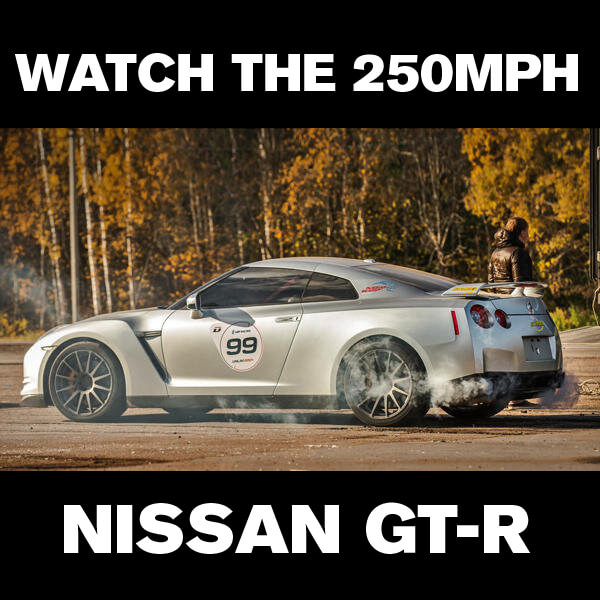 On a cold morning in Russia, competitors in the Moscow Unlimited Standing Mile event readied for action, seeking the ultimate speed from their tuned missiles. One competitor, piloting a 1,800 hp Nissan GT-R by Oberlin, Ohio, based tuners Switzer Performance, sought to claim the title as "world's fastest GT-R." Completing the mile in a reported 22.602 seconds, the machine nicknamed "Goliath" hit 250 mph to become the undisputed tsar of the GT-Rs.
Tym Switzer, owner of Switzer Performance, prides himself on creating the fastest GT-Rs imaginable and yet ensuring it remains user-friendly. "It's important to realize, this is still a 4,000 lb. streetcar with a full interior, AC, stereo – it even has the stock seats," says Switzer. "It's a real, drivable streetcar, albeit at the limits of what most people would tolerate. The only 'race stuff' in the car is the fuel."
Having driven a 1,000 hp GT-R tuned by Switzer, I concur. Only, my brain can't fathom what a blend of almost 1,800 Japanese and American stallions must feel like, especially on a drizzly day in Moscow just feet from a flimsy iron railing. "In the '90s," Switzer says, "a 1,000 hp street car was unheard of. Now? Fifteen hundred hp and people want more – they think they do, anyway, but very few people really know what 'pushing the envelope' means."
In fact, Tym Switzer had to plead with his Russian client to be more conservative; that is, until the client explained that he was well aware of the risks and demanded the car be made to his specifications anyway. While ultimate performance is Switzer's calling card, utilizing that power with a linear curve ensuring the car remains stable, specifically upon launch, is key. Switzer attests this differentiating attribute to their Syvecs engine management system. In this case, it helped their Russian client speed to 250 mph and a claimed GT-R record, a speed, according to event organizers, that has only been surpassed by two other cars – a 267 mph Ford GT and a 250 mph and change Chevy Camaro.
Last time I was in Switzer's shop in Ohio, driving their Ultimate Street Edition GT-R, there was a "Goliath" being built. At the time, I wondered quite how fast a car that boasts 80-percent more power than the insane GT-R I drove (which was faster to 130 mph from 60 than even a Bugatti Veyron) must be. Well, I guess I now have the answer: Very.
CREDIT: http://autos.yahoo.com/blogs/motoramic/watch-fastest-nissan-gt-r-world-hit-250-153054712.html