Nissan Heisman House returns to ESPN's college football season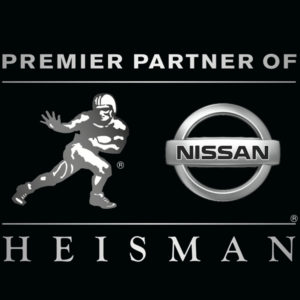 Popular campaign, now in its fourth year, supports Heisman Trophy Trust's longstanding charitable work

Former Heisman trophy recipients, including newcomer Johnny Manziel, are featured in a series of entertaining broadcast spots

Online support includes a dedicated website where fans can cast votes for this year's Heisman candidates

A behind-the-scenes show, featuring 2014's 11 "house mates," debuted August 15 on ESPNU; website and spots break across ESPN's platforms on August 28

Anything that can happen does, when quarterbacks start playing "totally real trick shots"
NASHVILLE, Tenn. – Just in time for the start of the college football season, Nissan and ESPN are bringing The Nissan Heisman House back, giving fans a glimpse of what it might be like if the winners of the Heisman Trophy lived and played together under one roof. While lighthearted in approach, the unique marketing campaign is part of Nissan's ongoing support of the Heisman Trust's year-round community support and charitable efforts. College football fans are also given the opportunity to vote for their favorite 2014 Heisman Trophy candidates, with Nissan's official vote given to the crowd-sourced winner.
Currently in its fourth year, this year's Nissan Heisman House campaign stars 11 Heisman Trophy winners in humorous vignettes and stunts, an interactive website and a Heisman House Tour that will travel to college campuses throughout the season. A behind-the-scenes show featuring footage and interviews with the featured Heisman members will continue to air through August 28 on ESPNU. The website, along with a series of spots, will debut on August 28 across ESPN's platforms.
The concept of the house revolves around the online platform, www.NissanHeismanHouse.com, where fans can tour the house, learn about current members, vote for the next Heisman Trophy winner and watch behind-the-scenes footage filmed during the campaign production. Eight of Nissan's highest-rated vehicles, including the Nissan GT-R, Altima, Titan, Pathfinder, Murano, Rogue and JUKE are featured prominently in the campaign.
"Nissan's Heisman House brings to life a fantasy for most college football fans – just hanging out with some of the best college football players that ever played the game," said Fred Diaz, senior vice president, Nissan Sales & Marketing and Operations, Nissan North America, Inc. "Not only is it great to join ESPN in bringing a little more fun and excitement to games this fall, Nissan is particularly proud to play a role in some of the rewarding work of the Heisman Trust."
The Heisman House campaign supports Nissan's long-running sponsorship of the Heisman Memorial Trophy Award. In recent years, the partnership has expanded beyond the "Heisman House" and the Nissan Heisman vote to help raise the visibility of The Heisman Trust's mission of supporting the underprivileged and underserved.
This dovetails with Nissan's mission to improve the communities where its employees and customers live. A number of Heisman winners have joined Nissan in support of its ongoing Habitat for Humanity efforts, including an annual weekend of service.
This past year, six Heisman winners joined Nissan in Texas to build a Habitat home and conduct a youth football clinic for underprivileged kids – joint activities supporting both organizations' missions and further demonstrating the power of the partnership. Through these expanded activities, the Heisman legends work closely with Nissan employees toward a common philanthropic goal.
Credit:
http://nissannews.com/en-US/nissan/usa/releases/nissan-heisman-house-returns-to-espn-s-college-football-season?page=2