Mossy Nissan donates Nissan NV van to Oceanside's 2013 Race Across America cycling team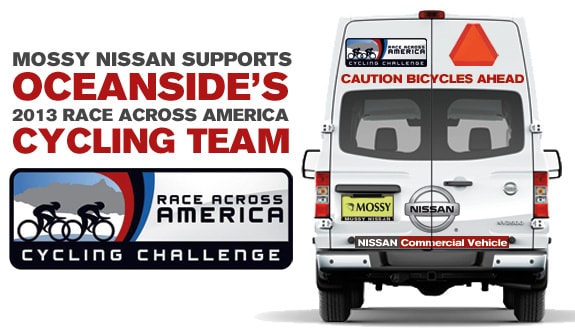 Mossy Nissan Oceanside has donated a Nissan NV van to the Oceanside team of bicyclists participating in the 2013 Race Across America (RAAM). RAAM, a yearly coast-to-coast bicycle race, serves as a high-profile vehicle for raising money for charitable causes.
RAAM 2013 starts in Oceanside, Calif. on June 15 at the Oceanside Pier and concludes in Annapolis, Md. between June 20 and June 24. The Mossy Nissan NV Van will serve as an emergency vehicle that will follow the Oceanside team of 8 cyclists across the country. The cyclists will race 3000 miles, cross 12 states, 88 counties and 350 communities and climb over 170,000 feet. The team will ride 24 hours a day, sleeping an average of 2 hours a night until the race is completed.