The Versa Note Inspires THE PASSION GENOME PROJECT
- Interactive visual experience uses Facebook to bring people together, promote all-new 2014 Versa Note -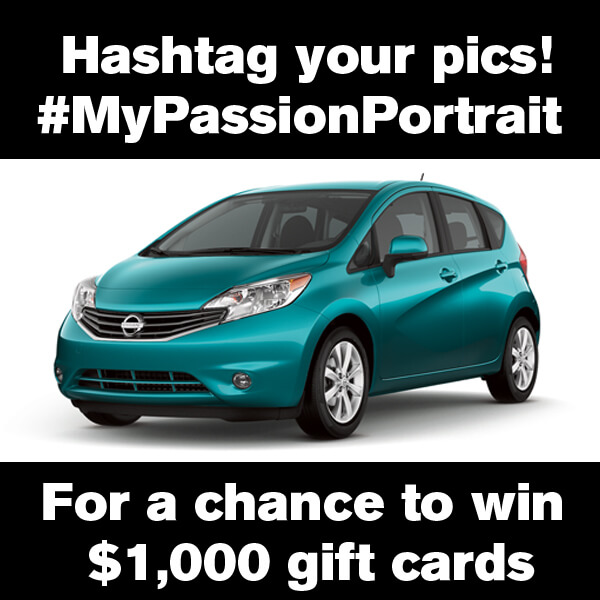 NASHVILLE, Tenn. - Our passions are what make us who we are. They add purpose, perspective and joy to our lives, they bring us closer to our friends and relatives and they spark connections between perfect strangers. To release the power of our passions and demonstrate how shared interests bring people together - and to promote the all-new 2014 Versa Note - Nissan is launching an interactive and shareable social media experience known as the Passion Genome.
Via Facebook and at PassionGenome.com, participants will see the passions they share with their friends illustrated in a Passion Portrait, a personalized, interactive visualization of themselves. After exploring their top-six passion categories, users can explore the entire Passion Genome to see where they fit within an expanded virtual universe of people and passions from across the world. Anyone who creates a Passion Portrait and shares it via Facebook or Twitter using the #MyPassionPortrait hashtag will be entered for a chance to win one of eight $1,000 gift cards from Amazon.com and have their portraits featured on PassionGenome.com.
"We are all part of a greater whole, and the rapid growth of social networks has made that clearer than ever before," said Jon Brancheau, vice president, Marketing, Nissan North America. "The Passion Genome displays passions and connections in an extraordinary and fascinating way, and we at Nissan can't wait to see how it resonates with everyone who explores it."
The Passion Genome was inspired by the 2014 Nissan Versa Note, a second-generation hatchback with a sculpted, modern and energetic look that reflects the active lives of its target buyers. The Versa Note is an exceptional combination of versatility, technology and value that boasts a substantial 40 miles per gallon (mpg) highway fuel economy and best-in-class total interior volume.*
It's a kid friendly and adult-comfortable vehicle that enables owners to take their friends and family anywhere they want to go. The Versa Note is your door to doing more of all the things you love to do.
CREDIT: http://nissannews.com/en-US/nissan/usa/releases/nissan-passion-genome-to-link-people-and-their-passions-using-social-media