NISSAN NEWS: Ordenez and Krumm to Test Nissan V8 Supercars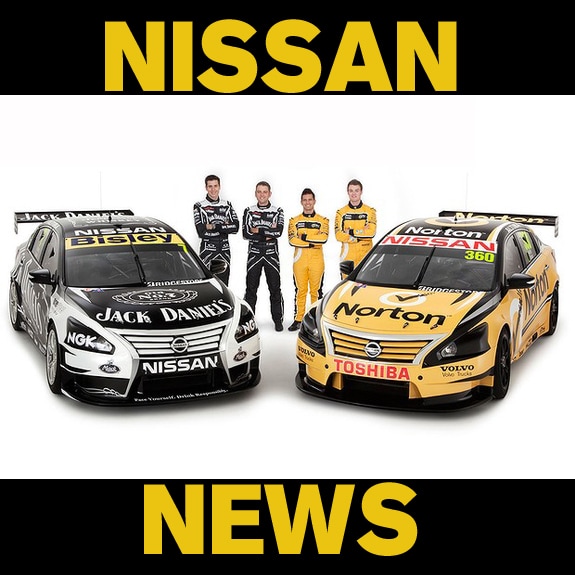 ROLLE, Switzerland - In a week that saw the launch of the NISMO Global Driver Exchange and subsequently Lucas Ordonez' first test in a Super GT car, Nissan today announced that he (Ordonez) along with Michael Krumm will test the Nissan Altima V8 Supercars at Winton Motor Raceway in Australia on August 12.
Krumm and Ordonez will fly to Australia for their debut V8 Supercar test, then head straight to Japan for the Suzuka 1000kms on August 17-18, Round Five of the 2013 SUPER GT Championship, where Krumm will drive his regular #24 Nissan GT-R in the GT500 class for the factory NISMO squad, and Ordonez for the NDDP outfit in the GT300 class.
The "NISMO Global Driver Exchange" announcement also included news that NISMO will enter a Nissan GT-R NISMO GT3 in the 2014 Bathurst 12 Hour on February 7-9, 2014, with Nissan Motorsport V8 Supercar driver to lead the outfit that will be entered as the "NISMO Athlete Global Team."
"I'm very much looking forward to the V8 test," commented Krumm. "I've always watched it on TV, and I like the cars. They have a lot of power and not very big tires. From what I know from driver colleagues that have driven the car, it will be a big challenge. It's good for the driver, apparently, because you have to have a lot of different techniques. The driver plays a bigger role in the speed of the car."
"This is just a test, and this is a Nissan engine," he continued. "I've driven many Nissan engines before, so this is a chance for me to see how it compares to the other engines worldwide. I haven't driven a race car in Australia, so I'm really looking forward to that. The Bathurst 1000 is a big race. Something that everyone wants to do at least once in their lifetime. It would be nice, but first of all, I have to drive the Altima V8 Supercar and see if I feel comfortable."
Lucas Ordonez has one of the busiest schedules he has ever known at the moment. Just back from Japan, he is about to compete in the Spa 24 Hours before the next chapter of his incredible racing career takes him to Australia and then back again to Japan.
"Most of my racing has been in Europe, so to have the chance to drive a V8 Supercar is amazing," said Ordonez. "It's another step in my career. I have followed the V8s from Europe, and with Nissan entering in the championship, it's amazing to hear the news that I'm testing the Altima V8 Supercar. I really can't wait for it. I know it's a tough car to drive with no electronic systems, no traction control, but it's a proper racing car with a lot of power.  I have spoken to some guys who have driven the cars before, and they've told me that the cars are tricky to drive and tricky to make fast. They say you can drive them over the curbs quite aggressively, and the way you enter the corner has to change to make less wheel spin, because the car has a lot of power. This is a great chance of me to learn, have fun, and hopefully one day compete in the Bathurst 1000."
"Part of our program to continue to globalize Nissan Motorsport is to get some of our international drivers to sample the brand-new Altima V8," explained Nissan's Director of Global Motorsport, Darren Cox. "It's a great opportunity for these drivers to try a different form of motor racing, but also for us to shine a light on the excellent work that is being done by Nissan Motorsport in Australia."
CREDIT: http://nissannews.com/en-US/nissan/usa/releases/ordenez-and-krumm-to-test-nissan-v8-supercars