Nissan's Self-Driving Car wins award and excites audiences at the Innovation Awards!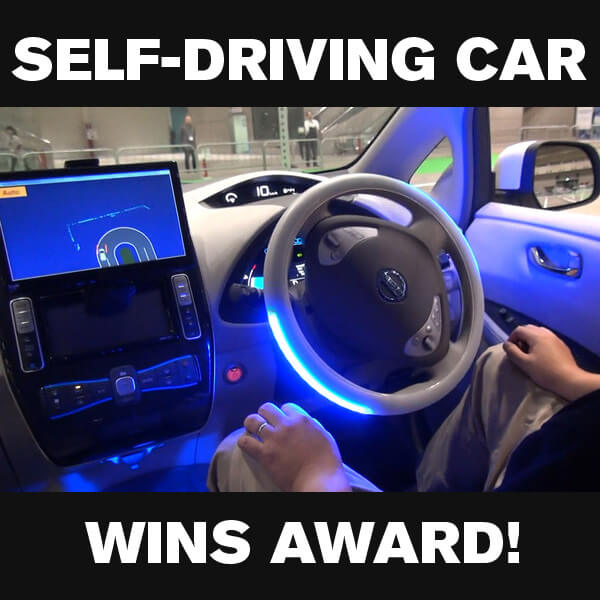 Nissan Motor Co., Ltd.'s Autonomous Drive technology has won the Grand Prix in the CEATEC Innovation Awards, the top prize. It was awarded by a panel of independent US journalists working in the fields of IT and consumer electronics.
The award honors the best among the technologies, products and services exhibited at CEATEC JAPAN 2013. The jury of journalists assesses the exhibits at CEATEC in a number of categories to determine the best by focusing on their potential impact on the U.S. market, meeting new consumer needs, functionality, innovation and if the technology, product or service exhibited offers a unique solution to new needs. It is the first time for Nissan to have won the award and the first time for an automaker to be given this accolade.
Nissan's Autonomous Drive technology also won the Smart Mobility, Special Award category.
The Grand Prix award was given with the following citation from the panel:
"Nissan's Autonomous Drive technology will greatly benefit future society by reducing traffic accidents and fatalities, preventing traffic congestion and contributing to a reduction in environmental issues through improved fuel economy.
Nissan revealed the advanced development of its technology in August when the company committed to being ready with multiple, commercially-viable Autonomous Drive cars by 2020. The system will be deployed across the model range within two vehicle generations.
Nissan's Autonomous Drive technology is an extension of its Safety Shield, which monitors a 360-degree view around a vehicle for risks, offers warnings to the driver and takes action if necessary. It is based on the philosophy that everything required should be on board the vehicle, rather than relying on detailed external data.
CREDIT: http://nissannews.com/en-US/nissan/usa/releases/nissan-wins-top-award-at-ceatec-japan-2013-for-autonomous-driving-technology