Heisman winner, Barry Sanders, is one step ahead in this episode of Nissan Heisman House!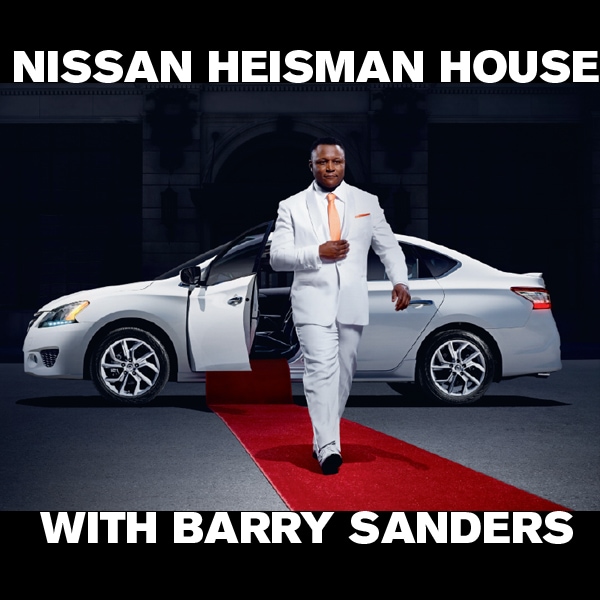 For the third straight year, Nissan and ESPN are giving viewers the chance to imagine what it might be like if the winners of college football's highest individual honor - the Heisman Trophy - lived together in the same house. The Nissan Heisman House returns in time for the start of the college football season and stars 13 Heisman trophy winners, an interactive website and a real-life Heisman House Tour that will travel to college campuses throughout the season. The website and vignettes debuted on August 31 prior to ESPN's Saturday Night Football game on ABC, followed by other ESPN platforms throughout the season.
The Heisman House supports Nissan's long-running sponsorship of the Heisman Memorial Trophy Award.The concept revolves around the online platform,www.NissanHeismanHouse.com, where fans can vote for the next Heisman Trophy winner.
Visitors can once again tour the house, learn about current members and watch behind-the-scenes footage and interviews filmed during the campaign production. Eight of Nissan's highest rated vehicles, including the 2014 Altima, Sentra and the all-new Versa Note, are integrated into the site and the campaign.
"This year we've added some entertaining new elements as we begin another exciting season in support of the good works of the Heisman Trophy Trust," said Jon Brancheau, vice president, Marketing, Nissan North America, Inc. "With the online voting for this season's top Heisman candidates, combined with the fun of seeing past Heisman winners interact with each other, we're going to capture the attention of sports fans across the country."
In addition to the website, the campaign will present six vignettes directed by award-winning director Erich Joiner. This season's Heisman House features returning members Robert Griffin III, Barry Sanders, Ty Detmer, Ron Dayne, Matt Leinart, Troy Smith, Tim Brown, Carson Palmer and Desmond Howard. This year's spots introduce newcomers Sam Bradford, Earl Campbell, Tony Dorsett and Mike Rozier to the roster of housemates. Each unique ad, filmed in Pasadena, Calif., depicts what life might be like if several Heisman trophy-winning players shared a house. From lingering rivalries to generational misunderstandings, each spot explores a different, comical aspect of the fictitious scenario.
 In this episode Barry Sanders hams it up for the camera and gets one up on his house-mates!
CREDIT: http://espnmediazone.com/us/press-releases/2013/08/nissan-heisman-house-returns-for-a-third-college-football-season-on-espn/