Buy with confidence 
Drive with peace of mind!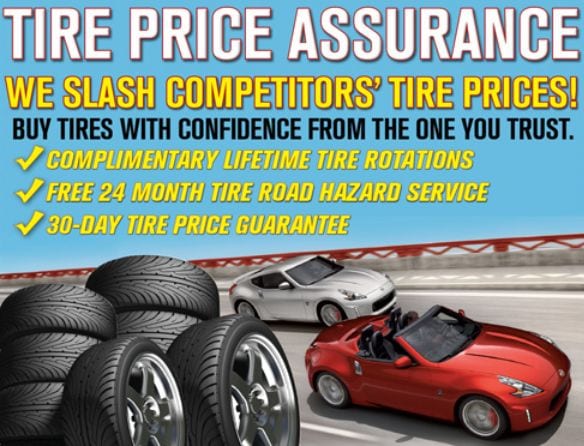 When it comes to driving safety your tires are a critical factor. Bald tires that lack tread can be dangerous during wet slippery road conditions. Fresh rubber means better road grip, better cornering, and shorter breaking distances.
When's the last time you replaced your vehicle's tires? If it's time for a new set, Mossy Nissan has great news for you. Our new TIRE PRICE ASSURANCE program means you can buy tires with confidence from Mossy, a name you can trust.
Thought you had to go to a tire center for low prices? Think again! We're slashing our competitor's tire prices to bring you a great low Rock Bottom Price on name brand tires. We'll even give you a 30-day tire price guarantee. But that's not all. You'll also get complimentary lifetime tire rotations, plus free 24-month tire road hazard service.
So the next time you're looking for a new safe set of tires, call one of our seven Mossy Nissan locations. Or to see our current tire specials click here!