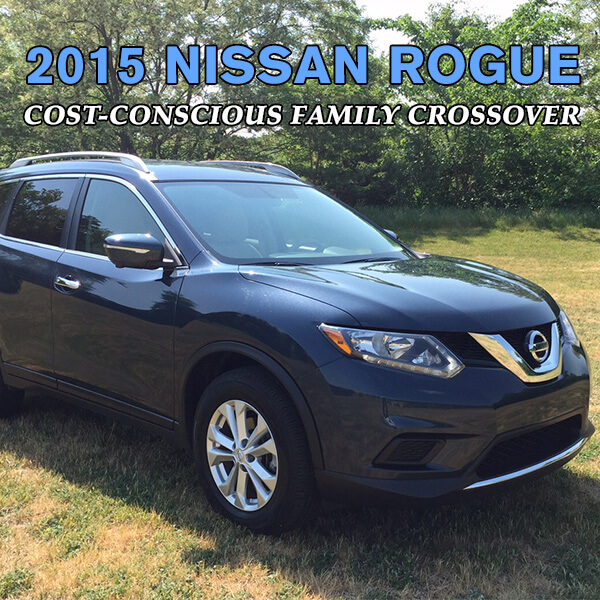 The 2015 Nissan Rogue is a small crossover that offers room for the family and affordability along with great fuel efficiency. Standard seating accommodates 5 passengers, but an optional 3rd row will give you room for 7 people.
There aren't a lot of times when you need to carry 7 passengers, but it sure is handy when the moment arises. The 2015 Nissan Rogue gives you that ability with an optional third row. This isn't a big crossover, so that third row is really more for kids, but it's nice to have in a vehicle this size.
The standard configuration accommodates 5 people with a 6-way power adjustable driver's seat with lumbar support and a manually adjustable passenger seat. They are very comfortable without being so soft that you'll be aching after a long trip.
The 40/20/40 folding rear seats are also comfortable with enough room for three. Shoulder space is a bit narrow but there's plenty of head and leg room. There is 39.3 cubic feet of cargo space behind the second row or fold them flat for 70 cubic feet.
The 2015 Nissan Rogue SV AWD starts at $25,840 with the optional SV Premium package adding on $1,590 for a total price of $27,430. That package includes NissanConnect with navigation, 7" color touchscreen, voice recognition for navigation and audio, and SiriusXM NavTraffic and Travel Link.
That same package adds comfort and convenience features and several important safety features. There is a power liftgate, heated outside mirrors and heated front seats. Safety comes from the Around View Monitor which gives a nice 360 degree view when the car is in reverse, blind spot warning, lane departure warning, and moving object detection.
That's a long list of features in a crossover that's still under $30,000. The sacrifice to keeping things more affordable is that the interior is understated without any flash.
Seating surfaces are fabric and there are lots of plastics, but those trims don't feel cheap. There is no genuine leather or open-pore wood finish on this vehicle. Those kinds of things are reserved for pricier cars. If you're looking for something more swanky, take a look at the Nissan Murano where everything steps up a level.
The Nissan Rogue has a 2.5-liter I4 with 170 horsepower and 175 lb-ft of torque. It's all paired to a CVT (Continuously Variable Transmission) which is something people love or hate. Some CVTs have a mind-numbing drone that drives people nuts, and even the best of the lot can be loud. The Rogue's falls somewhere in the middle. You'll hear it, but it won't make you cringe.
This year there is a new Eco mode that will help improve your overall fuel economy, which is already good. It's rated 25/32/28 city/highway/combined which adds to the car's overall affordability.
Driving performance is modest, nothing sports-car like about this one at all. Accelerating from a stop won't have you at the front of the pack, but you won't be left behind either. Accelerating at highway speeds is more challenging with the engine taking a second to respond to your foot on the gas.
Handling is solid with nicely weighted steering that provides a nice sense of control. There isn't a lot of feedback from the road which may be disconcerting for some. It's right in line with the overall vibe of the Rogue. This is a family sedan hidden inside a crossover's body and it performs accordingly.
The 2015 Nissan Rogue is a good cost-conscious option for those who want the added space and utility of a crossover on a more modest budget.
CREDIT: http://bestride.com/blog/review-2015-nissan-rogue-is-a-cost-conscious-family-crossover/19296/