THE KING OF DRIFT
DUBAI – GT Academy Middle East judge Abdo Feghali – aka Dado, aka King of Drift – shows the new international recruits how to boss an epic drift in a 370Z.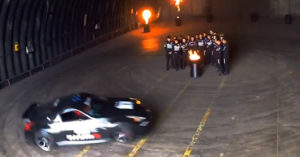 Salman Al Khater won the first GT Academy Middle East competition in 2012. He has won an international endurance race and, along with Ashley Oldfield and Tomas Scheckter, took a class win at the Britcar 1000kms at Silverstone.
"GT Academy is getting huge international interest," said Nissan's Director of Global Morosports, Darren Cox. "We know that there are gamers outside of the traditional GT Academy territories that want a shot at winning. Nissan is an international company with global ambitions, and it's exciting that GT Academy reflects that."
More in GT Academy Middle East 2014: http://nissannews.com/en-US/nissan/usa/releases/the-king-of-drift-at-gt-academy-finals-middle-east
---