Nissan Racing team takes the Dogzilla Food Truck for a ride! 
IRVINE, Calif. - The words "food" and "truck" combined can invoke the kind of misery-on-wheels that restocks airplane galleys. But not at Nissan 360.
At Nissan's global showcase of products and technologies in California, two food trucks - The Lime Truck (TLC) and Dogzilla - were lime-green chariots serving the best SoCal has to offer. And like Cinderella getting dressed up for the ball, tacos and hotdogs never had it so good.
"Foodies need not fret: The Lime Truck has arrived," so went the slogan for the Orange County-based taco truck.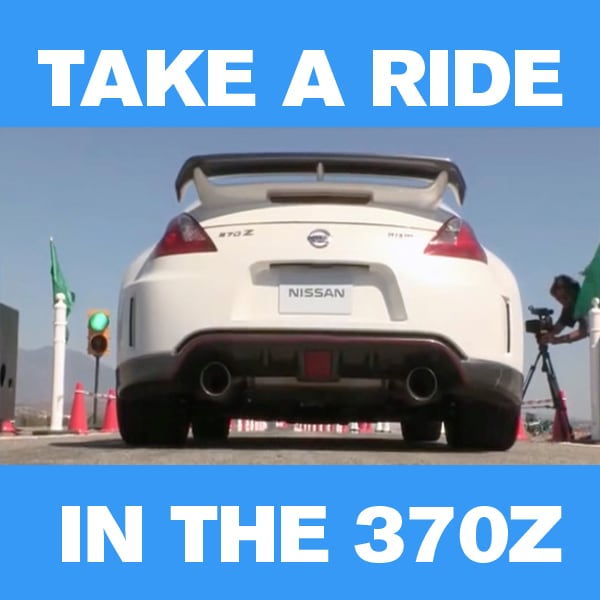 TLT beckoned N360 guests daily from 11am to 2pm, while the Ultimate Taco (12-hour pulled pork, cojita cheese, homemade guacamole and chipotle honey cabbage) and the Sweet and Spicy Steak Taco (marinated hanger steak, Asian slaw and homemade wontons) enticed hungry journalists, confirming why TLT is royalty on the California food-truck scene.
Winner of the Food Network's 2011 The Great Food Truck Race and boasting a Twitter following over 10,000 strong, TLT now has an empire of three trucks and two brick-and-mortar eateries in Los Angeles and Orange counties.
All its ingredients are organic, locally sourced from partner Melissa's Produce, including the ghost peppers (bhut jolokia chiles) in the Death Sauce, which made the mouths of brave TLT taco eaters at N360 burn like the 110-degree desert sands surrounding the tracks.
The Lime Truck's Alex Demag - and high school buddy of TLT founder-owner Daniel Shemtob - says a third location in the Irvine Spectrum is planned for the cars in 2014.
The Lime Truck is often kept company by the Dogzilla team. Established around the same time as TLT, in 2010, Dogzilla unleashes the condiments of Asia on its dogs, including teriyaki sauce, furikake seasoning, fried eggs - and even yakisoba.
The Yaki Dog is a cajun pork link topped with yakisoba noodles, red ginger, okonomiyaki sauce, and aonori - all true to Dogzilla's slogan of "Not your typical wiener." But if you're not digging Asian-style dogs, Dogzilla offers the Ball Park - with chili, onions and cheddar cheese - or a classic beef frank, the Plain Wiener.
Dogzilla's Chris Le says owners Bac Dang and Martin Tse wanted to put a twist on hotdogs and with the success of fusion decided on Asian trimmings. Clearly, it's worked.
Following the food truck boom around 2010 that took mobile munchies into the hundreds, only a few remain.
Dogzilla and The Lime Truck keep their L.A. and O.C. entourages up to date on their whereabouts through social media. Did we mention they do weddings?
And after a main course, what better way to go than ice cream. Ben & Jerry's was on site with none other than Maan Sidhu - owner of the only B&J's in Orange County - scooping the likes of Chunky Monkey and Cherry Garcia into cups and cones for overheated guests.
By the end of the event, they had a chance to sample Nissan 360's auto offerings: the Nissan 370Z NISMO and the Nissan GT-R NISMO GT3, and even race their own vehicles for a quick taste of food truck performance on the track.
CREDIT: http://nissannews.com/en-US/nissan/usa/releases/truckin-with-tlt-and-dogzilla-at-nissan