The Pro-Am team championship is a straight fight between Nissan and Ferrari!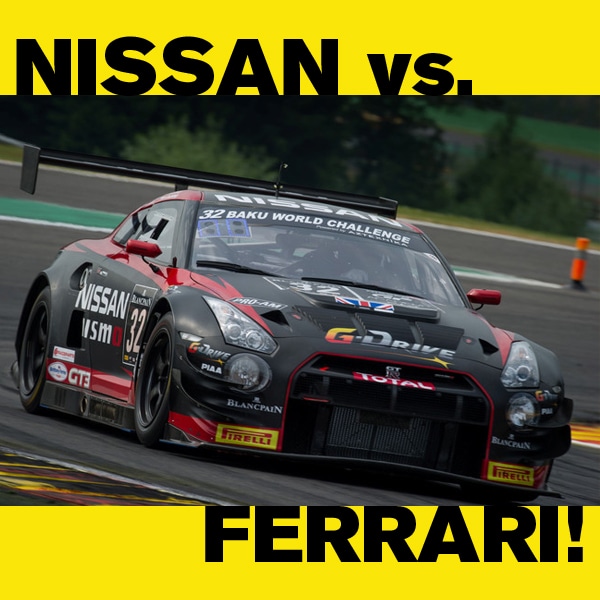 Blancpain Endurance Series titles go down to the wire in Germany
Kazuki Hoshino races at the Nurburgring for NISMO Global Driver Exchange
Jann Mardenborough doubles up on GT and F3 duty
FIA World Endurance Championship heads Stateside to Texas
Two new GT Academy graduates join Tomas Scheckter for Silverstone 1000kms
NURBURGRING, Germany - Nissan takes its team of talented gamers to the Nurburgring in Germany this weekend for the final round of the Blancpain Endurance Series.  The result of this race will decide both the driver and team titles in the Pro-Am class of the 2013 Series. 
he Pro-Am team championship is a straight fight between Nissan and Ferrari, currently separated by just one point with Nissan having the upper hand.
Lucas Ordonez leads the Pro-Am driver's championship ahead of teammates Peter Pyzera and Alex Buncombe, but with 33 points awarded to the race winner that title battle is still wide open.
Nissan GT Academy Team RJN will field two cars for this event. The No.35 Nissan GT-R NISMO GT3 will be raced by Lucas Ordonez, Wolfgang Reip and Peter Pyzera, while the sister No.32 GT-R will be in the hands of Alex Buncombe, Mark Shulzhitskiy and Jann Mardenborough who will also be competing in the British F3 International Series at the Nurburgring this weekend.
The final event of the Blancpain Endurance Series is a one-off 1000kms race so tactics and strategy will play a key part in the outcome. Lucas Ordonez is ready to get out there and fight for the championship.
"It's a long race so anything can happen but I will be racing with the championship in my mind," said Lucas. "It will be a tough track for us so we really need to nail the set up.  I've not actually raced on the Grand Prix track before but I have done many driving events there. I won my class at the Nurburgring 24 Hours in 2012 though so it is a good place for me.  This is a very important event for me, for Nissan and for GT Academy. It has been a very busy and very exciting year and I hope we can finish it with a championship in our hands."
Like Lucas, Peter Pyzera has never competed on the Grand Prix track but he knows it well from taking part in many track days there.
"I really like the atmosphere at the Nurburgring and that fact that this is my home race makes a big difference to me," said Peter. "It is only two hours from my home so I hope to get a lot of local support. I have a good feeling about this race. To be honest the only time I haven't had a good feeling before a race was at Ricard and that didn't go well at all! This is my first season as a racing driver and we are going to the last race leading the championship. I'm very proud to be part of this team and I hope we can hit our targets at the Nurburgring.  It would be great to stay in front of Ferrari and maybe get a podium. To win the championship would be fantastic so like always I will give 100% and see what happens."
The Nurburgring 1000kms will also see another NISMO Exchange taking place when NISMO's Kazuki Hoshino jumps into the No.23 JRM Racing GT-R with Peter Dumbreck and Steven Kane.
"Thank you very much to Nissan for giving me the chance to race in Blancpain, said Kazuki. "I am very interested in the series and I like the track so much.  I have been there five times for the Nurburgring 24 Hours but not this year so I am pleased to go there again. It is good to be part of the NISMO Global Driver Exchange. I was very surprised and impressed by the three drivers who have been over to Japan so far (Lucas, Alex and Jann).  They only needed three laps to get used to driving at a new track before they were putting in very quick laps. I also really enjoyed racing with Lucas. He is a good guy with a great racing ability and I hope to race and share the same car with him again."
MOMENT OF TRUTH ARRIVES FOR TWO MORE GT ACADEMY GRADUATES
While most of the GT Academy graduates are fighting for the Blancpain title at the Nurburgring, two of the newest winners will be taking part in their prize drive at Silverstone.
Salman Al Khater and Ashley Oldfield are the winners of the 2012 GT Academy competitions in the Middle East and South Africa respectively.  Since winning GT Academy last March, Salman and Ashley have been on an intensive driver development program to prepare for them for international competition.  Like Lucas Ordonez, Jann Mardenborough and all of the winners before them their prize is to compete in an international endurance event in a Nissan 370Z NISMO GT4 race car. 
An important part of the GT Academy process is the lessons the winners learn from their mentors. Lucas was mentored by Johnny Herbert in 2008, and the ex-F1 star joined Lucas on the grid for the 2009 Dubai 24 Hours.  For Ashley and Salman, they have the expertise of Tomas Scheckter to call upon as the successful South African racer will join them for the Silverstone 1000kms this weekend.
NISSAN LOOKING TO CONTINUE CLEAN SWEEP
Philippe Sinault's Signatech Team won the European Le Mans Series race at the Hungaroring last weekend, leading home a Nissan-powered 1-2-3-4 and continuing the clean sweep of Nissan victories in both the ELMS and FIA WEC.
The FIA World Endurance Championship moves to the United States this weekend to race at the Circuit of the Americas in Houston.  With seven LM P2 cars powered by Nissan the racing will be as close as ever so tune into radiolemans.com or catch the action live at fiawec.com when the race gets underway on today.
CREDIT: http://nissannews.com/en-US/nissan/usa/releases/nissan-s-championship-battle-to-be-decided-at-the-nurburgring