REPRINT OF CAR AND DRIVER'S STORY ON  
the Nissan Juke-R
Riding the frog-faced Godzilla lightning.  
BY SAM SMITH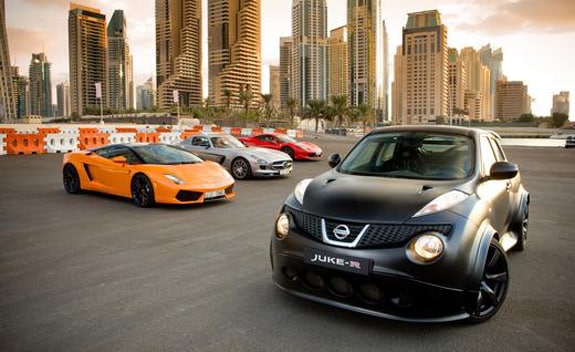 Question: When is a Nissan GT-R not a Nissan GT-R? Answer: When it's a fat-fendered piece of lunacy with the face of a Nissan Juke. In other words, when it's a Nissan Juke-R.
There are currently two Juke-Rs in existence: one is left-hand drive, the other right-hand drive. Both are powered by a modified version of the 3.8-liter, twin-turbo V-6 found in the 2011 Nissan GT-R. Both were commissioned by Nissan Europe and built by British motorsports house RML Group. Nissan's Japanese brass reportedly didn't know the cars were being assembled until the first construction videos found their way to the internet. Some 2.3 million YouTube views and a scant 22 weeks later, the world was gifted a 485-hp, two-ton, 5.2-foot-tall monster. Forum fanboys pissed themselves.
Allow us to blow your mind: Nissan claims the Juke-R will bolt to 62 mph in 3.7 seconds.
Allow us to blow your mind again: We have reason to believe that figure is pessimistic.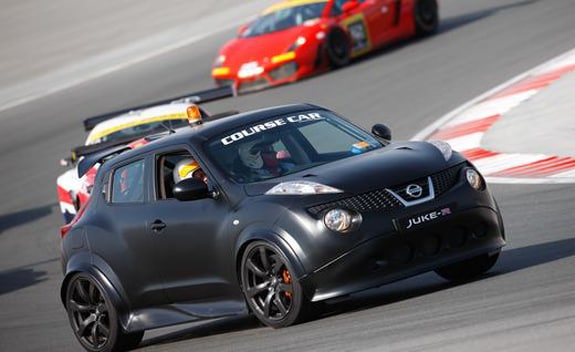 It takes no small amount of wrench pimpery to stuff a GT-R's powertrain into a crossover the size of a bento box. The rear seats are gone, replaced by an FIA-compliant roll cage. Gone, too, are the Juke's original floor, firewall (a new one lives 3.9 inches to the rear), and headliner. The V-6 supports both air conditioning and power steering; and save for a shortened driveshaft, much of what's here are showroom-ready Godzilla bits. The wheelbase, the length, and the height are shared with the ordinary Juke, but composite fender flares cover 20-inch wheels, stiffer springs and dampers, and the GT-R's wider track. The whole mess looks Animal Planet deadly, like a 'roided-up gibbon or psychotic puffer fish. (Fugu-R?) It is glorious.
We flew to Dubai to drive this beast. After five Nissan-policed, stability-controlled laps around the 2.7-mile Dubai Autodrome, the silly-metaphor well ran dry. Nitrous-powered bar stool? Sure. Chrysler Building with a Saturn 5 suppository? Why not? Loony doesn't even begin to describe it.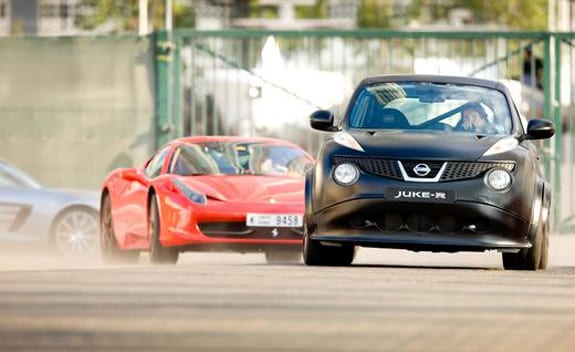 The chassis is neat, much like the Manhattan Project was neat. Who knew science could make such violence? There's grinding understeer under throttle in slow corners, neutral drifts in fast ones, impossible grip, body roll out the wazoo. Go deep into the surprisingly soft brake pedal, the back end hops around. High-speed turn-in is abrupt enough to make your coccyx itch. Crosswinds, sneezes, and butterfly wing flaps in China make the Juke's tall body twitch and bob. Still, it's fast, predictable, and remarkably approachable. Nissan claims the top speed is a drag-limited 160 mph, which is 31 mph lower than that of the GT-R, a vehicle that is not shaped like mobile teratoma.
Nissan says the Juke-R's suspension is set up for street use, but we weren't allowed off the track, so that's anyone's guess. It also says, amazingly, that a production R is under consideration-rumor has it several sheiks tried to buy the cars brought to the Middle East, but sheiks will buy anything. No matter. Much like Dubai, the Juke-R is a tangible fantasy, a fancy confection whipped up from thin air and dreams. It exists because it's awesome, and that's good enough for us.
CREDIT: http://www.caranddriver.com/reviews/nissan-juke-r-first-drive-review