A DYNAMIC DRIVE - 2014 Juke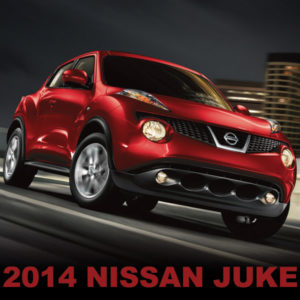 THRILL RIDE
Every little bit helps. Using electric power steering instead of hydraulic power steering cuts down on the amount of power needed from the engine. And that means more miles out of every tank. Plus, it helps automatically adjust steering feel based on vehicle speed.
ADAPT AT WILL
Integrated Control (I-CON) System
The Integrated Control (I-CON) System provides the driver with a unique interface. Control cabin environment and numerous other vehicle adjustments. Or select Normal, Sport, Eco, or D-Mode, and at the push of a button your JUKE adapts to your driving demands.
DYNAMIC DRIVE
The Nissan JUKE's available torque vectoring all-wheel drive is an innovative stabilization system designed to keep you in full control in most driving scenarios. In addition to moving power between the front and rear wheels, the multi-sensor system automatically transfers rear-wheel power to the left or right, depending on which needs it more. So any change in direction, such as navigating a roundabout, can be performed smoothly, securely, and with agility.
FOLLOW NO ONE
Direct Injection Gasoline (DIG) Turbo Engine
The 1.6L Direct Injection Gasoline (DIG) turbo engine standard in the Nissan JUKE puts heightened turbocharged performance at your command. Nissan innovations deliver the power of a larger engine while maintaining the better fuel economy of a smaller one. Get boosted turbo performance when you want to feel the kick, or ease off and get better economy when cruising.
The 2014 Nissan JUKE is available at all 7 Mossy Nissan locations in San Diego.  Shop for yours today.
Credit: http://www.nissanusa.com/crossovers/juke/feature