Nissan and FedEx Express Put All-Electric e-NV200 to Work in Collaborative US Test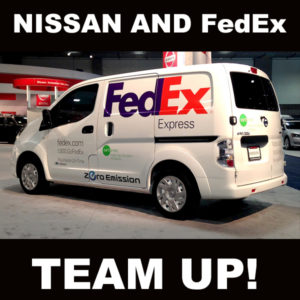 WASHINGTON, D.C. — FedEx Express, a subsidiary of FedEx Corp., and Nissan announced today at the Washington Auto Show that the two companies will begin testing the Nissan e-NV200, a 100 percent electric compact cargo vehicle, under real world conditions in Washington, D.C.
This test marks the first time the vehicle will be running in North America. FedEx Express and Nissan have conducted similar e-NV200 tests with fleets in Japan, Singapore, the United Kingdom and Brazil.
FedEx and Nissan are both committed to reducing the environmental impact of their operations worldwide. Rotating the Nissan e-NV200 into the delivery fleet is part of the FedEx EarthSmart program, a global sustainability platform designed to guide the company's environmental commitment in the communities where it operates.  For Nissan, this effort aligns with its "Blue Citizenship" corporate social responsibility program with a focus on increasing the number of vehicles that emit no greenhouse gases by exploring additional vehicle segments where its leading electric vehicle technology may be applied.
FedEx will deploy the Nissan e-NV200 in the Washington, D.C. area, where it will undergo field tests that subject it to the routine requirements of a delivery vehicle. The results will be used to help determine the viability of using an electric vehicle in this role in the U.S. Nissan e-NV200 is scheduled to begin mass production later this year in Europe.
"As a global fleet operator serving 220 countries and territories worldwide, FedEx is committed to improving the efficiency of its vehicles as part of our EarthSmart initiatives," said Mitch Jackson, vice president of Environmental Affairs and Sustainability, FedEx Corporation. "We are pleased to continue our work with Nissan and bring the e-NV200 into test in North America."
"We're eager to work with FedEx and other companies to put the e-NV200 through its paces to continue to build awareness of the capability of electric vehicles and to evaluate how well it meets the needs of the commercial consumer," said Erik Gottfried, Nissan director of Electric Vehicle Sales and Marketing. "We'd also like to explore clever uses of EVs in work environments where carbon emissions of gas-powered vehicles make them impractical or impossible to use."
http://nissannews.com/en-US/nissan/usa/releases/nissan-and-fedex-express-put-all-electric-e-nv200-to-work-in-collaborative-u-s-test