SAFETY SATURDAY: Nissan continues teen driver education efforts.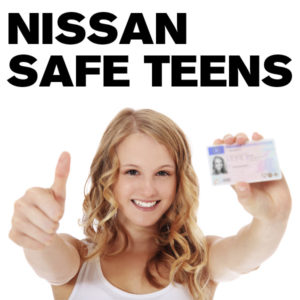 Teenage girl proudly showing her driver's license
For the second consecutive year, Nissan is partnering with the Tennessee Governor's Highway Safety Office (GHSO) to engage teens about the importance of avoiding distracted driving and other harmful behaviors behind the wheel through the ThinkFast® Interactive education program. Teen fatalities in Tennessee have declined steadily over the last 10 years from 178 in 2002 to 94 in 2012, according to the Tennessee Department of Safety and Homeland Security.
ThinkFast® Interactive is an interactive awareness game show that educates students about the importance of teen driving safety. The program is set up like a game show, complete with a full production set, mainstream music, an entertaining host and informative and engaging trivia that appeal to teens.
"This partnership is a reflection of our continued commitment to driver and passenger safety," said Selim Hammoud, director Product Safety, Nissan. "Nissan has a vision of helping to eliminate teen accidents and fatalities by instilling safe driving habits in Tennessee students with the ThinkFast® Interactive program – just one of many safety education initiatives in place to help reduce the number of auto-related injuries and fatalities."
Historically, the Tennessee Governor's Highway Safety Office has been able to offer ThinkFast® Interactive to 30 schools in the state starting with those that have the highest fatalities among teen drivers. With Nissan's support, the number of ThinkFast® Interactive events has grown to more than 110 Tennessee middle and high schools across the state for the 2013/2014 school year.
Nissan was recognized last year with the 2012 Lifesaver Award by the Governor's Highway Safety Office for its support of teen driving safety initiatives and demonstrated commitment to safe driving behaviors.
"Providing educational tools to teen drivers is one of the most important things we can do.  The spirit in which Nissan has helped us attack the problems of teen driving exhibits the best in corporate sponsorship. We are proud to continue that partnership again this year," said Kendell Poole, director, Tennessee Governor's Highway Safety Office.
According to the National Highway Traffic Safety Administration (NHTSA), traffic crashes are the leading cause of death for teenagers in America, with teenagers being involved in three times as many fatal crashes as all other drivers.
CREDIT: http://nissannews.com/en-US/nissan/usa/releases/nissan-continues-teen-driver-safety-education-efforts?page=2&query