Mossy Nissan's popular Versa sedan is
now America's best-selling entry sedan!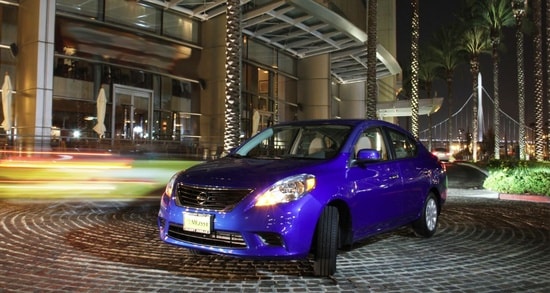 Mossy Nissan has the new 2013 Versa Sedan in stock at all seven locations, and that's good news for San Diego car shoppers. The Versa, one of Mossy Nissan's most popular models is now America's best-selling entry sedan!
Here are some reasons why car buyers are choosing the Versa: 





Fuel economy


Versa offers some very impressive fuel efficiency. The Versa sedan, equipped with Nissan's cutting edge 2nd generation Xtronic Continuously Variable Transmission, gets an EPA rating 40-mpg highway. 






 

Room to move, and to store!


It might be a compact car, but with 39.8 inches of front headroom from seat to ceiling, the Versa Sedan's got clearance to spare. In fact, it's got the most front headroom, rear headroom, and rear legroom per dollar of any car in America. Versa's trunk holds an impressive 14.9 cubic feet of room.




  




 

Innovation at every turn


Versa offers convenient, cutting edge, features - like Nissan's Tire Pressure Monitoring System (TPMS) with Easy-Fill Tire Alert - the horn honks when the driver puts enough air in the tires. With great features like these, and our low Rock Bottom Prices, the Versa a great choice for anyone considering a small car with big advantages.


> Check out our inventory here and find the Versa that suits your needs and your budget.