Mossy Nissan's Ultimate Altima Giveaway Winner!
On Monday, August 11th, semifinalists of the Mossy Nissan's Ultimate Altima Giveaway gathered to test their luck in winning a brand new 2014 Nissan Altima 2.5S! Each semifinalist was assigned a number as they arrived to the event at Mossy Nissan in Chula VIsta.  At approximately 5:15pm, the official giveaway began. One by one, each person blindly grabbed a key out of the giveaway box.  The person holding the "golden" key won a new Altima.
Elizabeth C. from Chula Vista is the lucky winner of a brand new 2014 Altima! Her family was there to cheer her on and share in the exciting moment!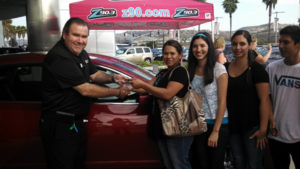 Three happy runners up with their Gas Card prizes.
About the Giveaway:
Mossy Nissan's  Altima Giveaway extended over 99 days.  People could enter to win online at MossyGiveaway.com, or through Facebook, Twitter and Pinterest.  Entrants had to answer the question "What Can You Get For $99?".  Over 2,500 creative and clever entries were received.  One semifinalist was selected every day for 99 days.