Comfort, convenience, connectivity PLUS 40 highway MPG!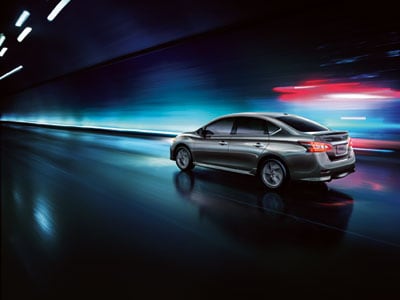 When it comes to designing vehicles with amazing gas mileage, superior styling, and cutting edge technology, Nissan is batting a thousand! This summer Nissan released the totally redesigned 2013 Altima, with best in class gas mileage, to rave reviews. And next on deck is Nissan's totally redesigned 2013 Sentra.
Nissan started with a blank slate, designing a totally new car from the ground up to compete with the Honda Civic, Ford Focus and Hyundai Elantra. The result? The best small car value on the market, and another grand slam home run- both for Nissan, and for San Diego car buyers!
Sentra's sporty new styling, and upscale interior will certainly wow car shoppers at Mossy Nissan. But they'll be even more impressed by the fact that Sentra is the most fuel-efficient car in its class, EPA rated at 40 miles per gallon freeway! Sentra owes its impressive gas mileage in part to Nissan's next generation Continuously Variable Transmission, which uses state of the art software for maximum fuel efficiency.
            Car buyers will also enjoy the many convenience and connectivity options offered by this new Sentra. Available for 2013 is Nissan's voice recognition navigation system. Also available, Google send-to-car directions, which allows drivers to find directions on a computer and send them to their car's navigation system. Car buyers can also choose Sentra's available Bluetooth®wireless hands-free phone and streaming audio, and streaming Pandora Audio for iPhone users. Sentra even has Speed Sensitive Volume that can automatically raise and lower the volume of the music with driving speed!
Why wait? See all the new 2013 Sentra for yourself at all six Mossy Nissan locations in San Diego County today!