Nissan Revs up for Daytona Qualifier 2014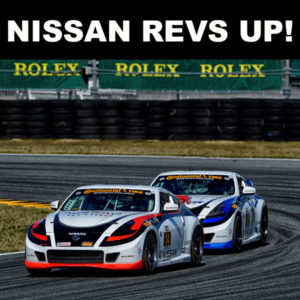 DAYTONA, Fla. – GT Academy 2011 champion Bryan Heitkotter has a history of strong qualifying laps during his Continental Tire SportsCar Challenge (CTSCC) career, and his first drive in the Skullcandy Nissan Altima almost netted him his fourth pole position. But a flurry of fast laps in the closing minutes of the session bumped the #33 Skullcandy Nissan Altima to the second row for tomorrow's Performance 200 race at Daytona International Speedway.
"The car worked great," said the 2011 Nissan GT Academy champion. "I'm still finding a tenth of a second here and there around this track, but I'm happy that I've been able to put some good laps together here at Daytona and can't wait to start the race."
The Nissan 370Z NISMO contingent in the GS class was led by Tim Bell, who managed 11th quickest during a crash-shortened qualifying session. This is Bell Racing's first event with the Nissan, and the team of Tim Bell and Dane Cameron should be a potent combination in Friday's race.
Doran Racing's Brad Jaeger took 15th qualifying spot in the #14 Nissan, while the sister car #41 was unable to post a time despite being the quickest 370Z throughout most practice sessions.
"It was unfortunate the 41 car didn't get a time today due to the very short qualifying session," said team owner Kevin Doran. "David (Empringham) and John (Farano) have been consistent and fast this week, and it's too bad they have to start near the back.  They'll have time to make up ground and they're very experienced and capable guys that can do it."
Qualifying for the Rolex 24 at Daytona yielded both good and bad news for the Muscle Milk-Pickett Racing Nissan ORECA. Lucas Luhr was in a familiar position as the fastest LM P2 driver in the session. Unfortunately for the Muscle Milk team, Daytona Prototypes took the top 10 spots, leaving the Luhr/Graf/Brundle car 11th on the starting grid.
Fortunately, the P2 cars are typically quite reliable in endurance racing and the team has 24 hours to work their way up the scoreboard this weekend.
The OAK Racing Nissan-Morgan suffered a mechanical issue during qualifying and will have to start 23rd.  Fortunately, the team quickly corrected the issue and posted fifth fastest time during Thursday night practice.
The Rolex 24 at Daytona coverage on Fox Sports 1 begins on Saturday, January 25 at 2 p.m. EST.
The Continental Tire Challenge Performance 200 will air on Fox Sports 2 at 6 p.m. EST on Friday January 24.
http://nissannews.com/en-US/nissan/usa/releases/nissan-daytona-2014-qualifying-recap