Cars.com selects Nissan Sentra and Versa sedan to its "Top 10 Cheapest New Cars You Can Buy" list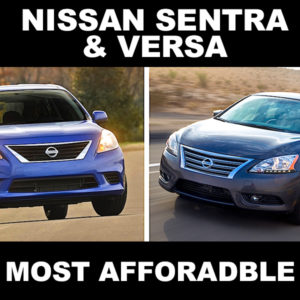 NASHVILLE, Tenn. - For Nissan, affordability meets uncompromised fuel efficiency and modern technology. This week, Cars.com, the leading online resource for buying and selling new and used cars, recognized two Nissan vehicles – Sentra and Versa Sedan – in its "Top 10 Cheapest New Cars You Can Buy" list, which identifies vehicles with the lowest sticker price and fuel costs on the market. Nissan was the only manufacturer with more than one vehicle on the list.
The 2014 Nissan Versa Sedan S Plus ranked third on the list with a starting price of $13,790** and 35 mpg combined highway/city fuel economy. The 2014 Nissan Sentra S with Xtronic transmission finished tenth with a starting price of $16,790** and 34 mpg combined highway/city fuel economy.
To create the list, Cars.com editors calculated sticker price and destination fees plus eight year fuel cost to decide which vehicles deliver the biggest "financial bang for your hard-earned buck." With starting price and eight-year fuel cost combined, the Sentra totaled $29,247, and the Versa Sedan amounted to $25,914. The last time Cars.com ran this test was in 2008, when the 2008 Versa placed sixth with a total cost of $30,002. While the price remains remarkably low, the fuel efficiency and technological advancement of the vehicles – including available technologies such as Bluetooth® and NissanConnect™ with Navigation – are as impressive as ever.
"Both Sentra and Versa Sedan feature notable fuel economy, advanced technology options, and an economical starting price that even the most frugal buyers can appreciate," said Dan Mohnke, vice president, Nissan Chief Marketing Manager & Marketing Operations. "In addition to impressive fuel economy and advanced technology, Sentra features a high-quality interior design with soft-touch instrument panel and door armrests, while Versa Sedan offers the most rear legroom in its class*. We're providing our buye
rs more for each dollar they pay, and we're honored to be recognized by Cars.com."
The affordable Nissan Sentra compact sedan offers a "class above" look and feel inside and out, along with refined performance and features. Its fuel-efficient 1.8-liter 4-cylinder engine helps deliver 34 mpg combined highway/city fuel economy and a more than 415-mile real-world driving range. Available technology includes NissanConnectTM with Navigation and NissanConnectTM Apps smartphone integration for iPhone® and Android, Bose® Premium audio system with eight speakers, Bluetooth® Hands-Free Phone System and RearView Monitor.
The popular Nissan Versa Sedan continues to redefine entry-level car value. It combines a sophisticated exterior design, well-appointed interior and exceptional room for five adults – including more rear legroom than some mid-size sedans. Versa Sedan is marked by innovations such as an available affordable integrated navigation system and standard 1.6-liter engine with an advanced dual fuel injection system, which helps produce 40 mpg highway fuel economy. Versa Sedan is offered in four models: S, S Plus, SV and SL.
To view Cars.com's full top 10 list, including a full explanation of the methodology behind the calculations, please visit http://blogs.cars.com/kickingtires/2014/02/top-10-cheapest-new-cars-you-can-buy.html#more.
Credit: http://nissannews.com/en-US/nissan/usa/releases/cars-com-selects-nissan-sentra-and-versa-sedan-to-its-top-10-cheapest-new-cars-you-can-buy-list?page=3&query