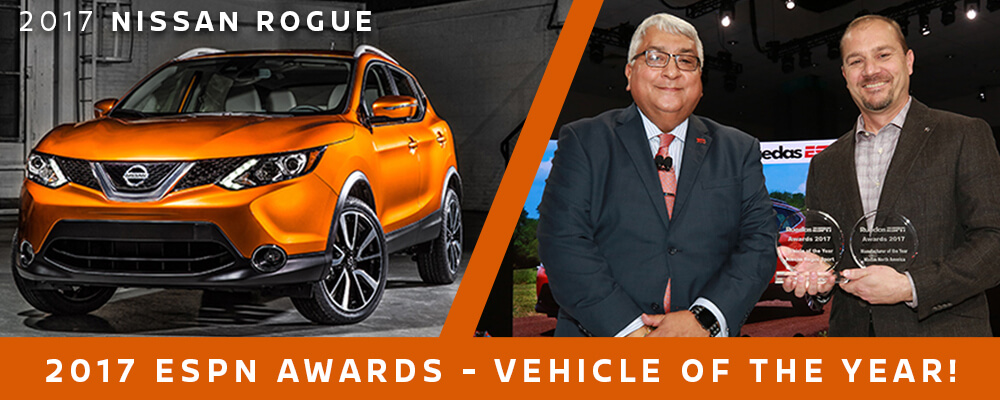 All-new Rogue Sport also named "Best CUV," and TITAN XD earns "Best Diesel Pickup" honors
WINNER WINNER WINNER WINNER
Nissan has been named the winner in four categories in the annual Ruedas ESPN Awards, including the prestigious "Manufacturer of the Year" and "Vehicle of the Year" titles, at the 2017 Los Angeles Auto Show.
The new 2017 Rogue Sport, the latest addition to Nissan's popular crossover SUV lineup, took home the hardware in both the "Vehicle of the Year" and "Best CUV" categories. The TITAN XD, the flagship of Nissan's hardworking personal and commercial pickup lineup, won for "Best Diesel Pickup Truck." Winners are selected by a jury of industry experts in 14 categories, along with the "Vehicle of the Year."
"Nissan is honored to be recognized for these four awards by Ruedas ESPN, especially with their nod to the exciting new Rogue Sport," said Dan Mohnke, senior vice president, Sales & Marketing and Operations, Nissan Division U.S., Nissan North America, Inc. in accepting the awards from Jaime Florez, director, Ruedas ESPN. "The Hispanic market, and Los Angeles in particular, has been a key driver of Nissan's sales success in recent years – so it is an added pleasure to receive the honors here at the Los Angeles Auto Show."
"The portfolio of Nissan vehicles available in the U.S. market is today better than ever. Not only are their products the right ones in every segment, but also the quality of their vehicles is second to none," said Florez. "For these and many other reasons, Nissan North America is 2017 Ruedas ESPN Manufacturer of the Year."
ROGUE SPORT
The new Rogue Sport shares many of the design, utility and technology attributes that have made Rogue Nissan's best-selling vehicle in the United States, but is slightly smaller, sportier and more affordable for younger, urban SUV buyers. These buyers are looking for much more space than a compact sedan, while still seeking the maneuverability and fun-to-drive feel that Rogue Sport delivers.
Like Rogue, the 2017 Rogue Sport offers a comprehensive suite of Nissan Intelligent Safety Shield technologies. The list includes Automatic Emergency Braking with Pedestrian Detection, Blind Spot Warning (BSW), Rear Cross Traffic Alert (RCTA), Lane Departure Warning (LDW) and Intelligent Lane Intervention (I-LI).
TITAN
The 2017 Nissan TITAN XD Diesel offers the effortless towing and hauling of larger, more expensive heavy-duty trucks – including an available maximum towing capacity of 12,640 pounds and maximum payload capacity of 2,420 pounds (when properly equipped) – yet has the fuel-efficiency and affordability closer to a half-ton pickup. The TITAN XD Diesel is anchored by a powerful Cummins® 5.0L V8 Turbo Diesel rated at 310 horsepower and a hefty 555 lb-ft of torque.
Like all 2017 TITAN full-size pickups, the TITAN XD is covered by "America's Best Truck Warranty"2 – featuring bumper-to-bumper coverage of 5 years/100,000 miles, whichever comes first.
For more information on the 2017 Rogue Sport, TITAN XD and the complete Nissan vehicle lineup - visit one of 7 Mossy Nissans or SHOP ONLINE NOW AT: MossyNissan.com
---
CREDIT: http://nissannews.com/en-US/nissan/usa/releases/nissan-named-2017-ruedas-espn-awards-manufacturer-of-the-year-rogue-sport-takes-vehicle-of-the-year-title