From the fierce 300ZX to the blisteringly quick GT-R NISMO, Wall St. Cheat Sheet compiled this list of Nissan's 15 Fastest Cars.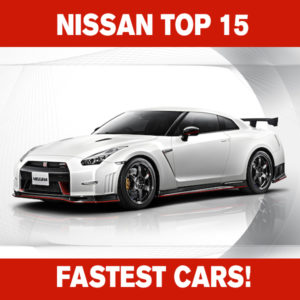 caption
Here's #1
1. GT-R Nismo
The GT-R Nismo is the top of the line when it comes to Nissan performance vehicles. The company took its fastest car and suped it up a bit, coming out with a blisteringly fast monster of a car. While no official performance statistics are available from Nissan, Top Gear reports that the GT-R Nismo can accelerate from 0-60 in just 2.7 seconds (though that could prove conservative, even). That's among the fastest in the world. The Nismo sees a boost in horsepower over the standard GT-R from 542 to 591, and torque has been ratcheted up from 465 to 481 pound-feet, all from the 3.8-liter V6 engine. This is the fastest vehicle Nissan has ever put on the road, and it looks like it'll stay that way for the foreseeable future.
The Nissan GT-R is available at all 7 Mossy Nissan locations in San Diego. Find your fastest Nissan car today!
Check out the rest of the list here now!
http://wallstcheatsheet.com/automobiles/15-of-nissans-fastest-vehicles.html/?a=viewall