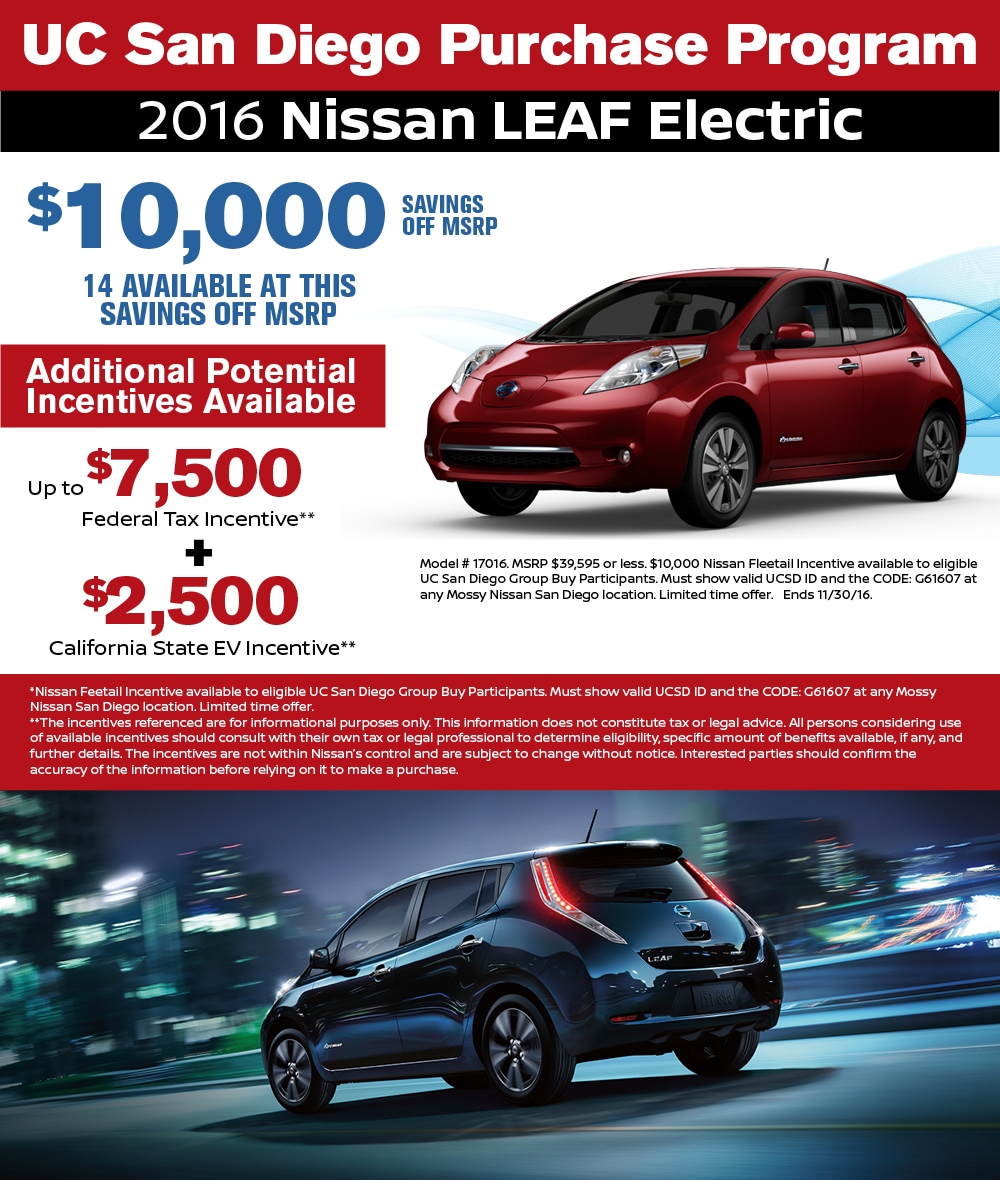 UC San Diego has teamed up with Nissan of North America, Inc. and Mossy Nissan to provide exclusive purchase offers to the campus community: faculty, staff, students and retirees.
       

For a limited time, Mossy Nissan is offering a $10,000 Fleetail Incentive to individuals participating in the UC San Diego "Group Buy" Program.

 

This acts as a rebate at the time of sale.
         

Up to $7,500 Federal Tax Incentive*

         

$2,500 California State EV Incentive*
100% Electric Nissan LEAF provides:
o   Available Best-In-Class 107 mile range with the 30 KwH battery**
o   No oil changes ever
o   Never buy gas again
o   State of California HOV access***
o   24 Months of Complimentary Public Charging*
UC SAN DIEGO FLEET CERTIFICATION CODE: G61067
90 Clean Air Vehicle Stalls at UC San Diego
With over 90 Clean Air Vehicle stalls now available in the newly-opened Athena Parking Structure, there has never been a better time to consider leasing an electric vehicle. You can also take advantage of the campus's electric vehicle charging stations, many of which are conveniently located on the east campus in lot P703 and in the East Campus Parking Structure (East and West). The campus also has funding to install up to 20 additional charging portals in lot P703.
UC San Diego affiliation must be verified in order to take advantage of this and other financing offers.
This limited time program is in support of ongoing UC San Diego research into electric vehicle charging.
*The incentives referenced are for informational purposes only. This information does not constitute tax or legal advice. All persons considering use of available incentives should consult with their own tax or legal professional to determine eligibility, specific amount of benefits available, if any, and further details. The incentives are not within Nissan's control and are subject to change without notice. Interested parties should confirm the accuracy of the information before relying on it to make a purchase.
**Comparison based on MY16 LEAF SV & SL vs. 2015 and 2016 non-luxury 100% electric vehicle competitors (Source: fueleconomy.gov). MY16 EPA range of 107 miles. Actual range may vary based on driving conditions. Use for comparison only. 
***Eligibility subject to state law and regulations. Laws and regulations are subject to change and are not within control of Nissan North America, Inc. For additional information please see http://www.nissanusa.com/leaf-electric-car/ev-incentives