Nissan NV: Designed for the way you work!
The Nissan NV is more than a van; it's an office, a warehouse and a workshop too!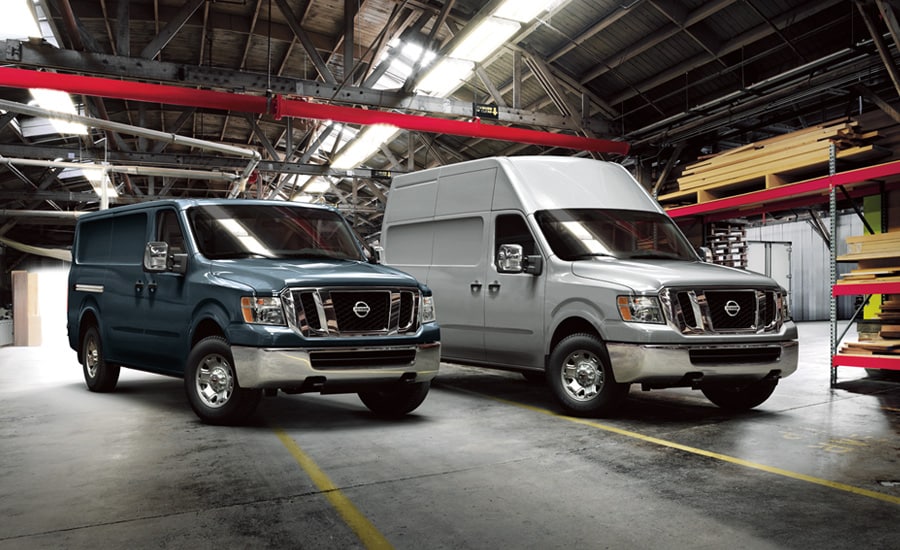 In this economy, customers are demanding more work, for less money. So when it comes to choosing a commercial vehicle, work van or cargo van, you need a one that can help you do more - for less! You need the Nissan NV. It's a productivity booster that can help you make the most of every mile of road, every gallon of gas, and every minute on (and off) the clock.
The Nissan NV is so much more than a commercial vehicle - it's also:
A Mobile Office!

Your Nissan NV can be customized with a sliding desktop, smart storage, available hands-free Bluetooth® Phone System, personal assistant and in-dash navigation system and more!
A Warehouse/Workshop!
With custom shelving units the NV can be as functional, practical and productive as you need! It features 243° wide-opening Doors, and offers more than 323 cubic ft of cargo room (high roof version only).
A Rolling Billboard!
The Nissan vehicle graphics program can help customize your NV work van with your logo, website and phone number. That means every mile you drive you are attracting new business! Why wait? Come discover what the Nissan NV can do for you at Mossy Nissan! At Mossy Nissan, the Nissan NV line or commercial vehicles are very affordable!
Mossy Nissan has 3 different Nissan NV commercial vehicle centers to serve you in El Cajon, Kearny Mesa and Oceanside! You'll find San Diego County's largest selection of NV Nissan commercial vehicles to choose from, in addition to so many new commercial vehicles for sale!
But Mossy Nissan is more than a place to buy the finest commercial vehicles and work vans in San Diego, we also offer commercial vehicle financing, parts and more!

For more information, or to get a commercial vehicle quote today,
contact Chris Vedenoff in North County at cvedenoff@mossy.com or Karl Kirker in South County at kkirker@mossy.com
!
See what a real business owner has to say about the Nissan NV:
Mossy specializes in all aspects of commercial vans with special purchase/lease and rental options.
Check out these amazing features:
- Up to 76.5" Cargo Height*
- Up to 320+ Cubic Ft. of Cargo Space*
- 243-degree wide opening doors*
- Custom upfits for all your tools
- Bluetooth (R) Hands-free Phone System**
- Optional locking center console includes file cabinet and laptop storage with 120v power
- Ample space on the side for advertising your company
*Available feature. High-roof model only
**Available feature. Availability of specific feature is dependent on your phone's Bluetooth (R) support. Bluetooth (R) wordmark and logos are owned by Bluetooth SIG, Inc., and use of such marks by Nissan is under license.
Click here to view the 2012 NV dimensions
















Looking for a new Nissan in San Diego? Mossy Nissan is the biggest San Diego Nissan auto dealer for car buyers! Yes, Mossy Nissan is the place to shop for new cars San Diego! Mossy Nissan has seven locations in San Diego to choose from: Mossy Nissan Chula Vista, Mossy Nissan Escondido, Mossy Nissan El Cajon, Mossy Nissan Kearny Mesa, Mossy Nissan National City, Mossy Nissan Oceanside, and Mossy Nissan Poway. We have new cars for sale in all our Mossy Nissan auto dealers, including that new Nissan Altima, Nissan Sentra, Nissan Rogue, Nissan Versa, and Nissan Frontier you've been looking for! Mossy Nissan San Diego also has the totally redesigned 2013 Altima. Looking for a used car for sale? Skip Carmax, Autotrader and Craigslist? Just come to your local Mossy Nissan! We have used car San Diego auto dealers with a great selection of used cars for sale. Not just used Nissans, but all makes and models of used cars San Diego. We also have Mossy Nissan Service and Mossy Nissan Parts to serve you. When it comes to San Diego Nissan dealerships and San Diego used car dealerships, Mossy Nissan is the place to shop!

In need of a work van for your company? Mossy Nissan has Nissan commercial vehicles for sale at three convenient San Diego locations: Mossy Nissan El Cajon, Mossy Nissan Kearny Mesa and Mossy Nissan Oceanside. Your San Diego Nissan commercial van dealer has NV cargo and NV passenger models for sale and available for immediate delivery.