THE ALL-NEW 2016 NISSAN TITAN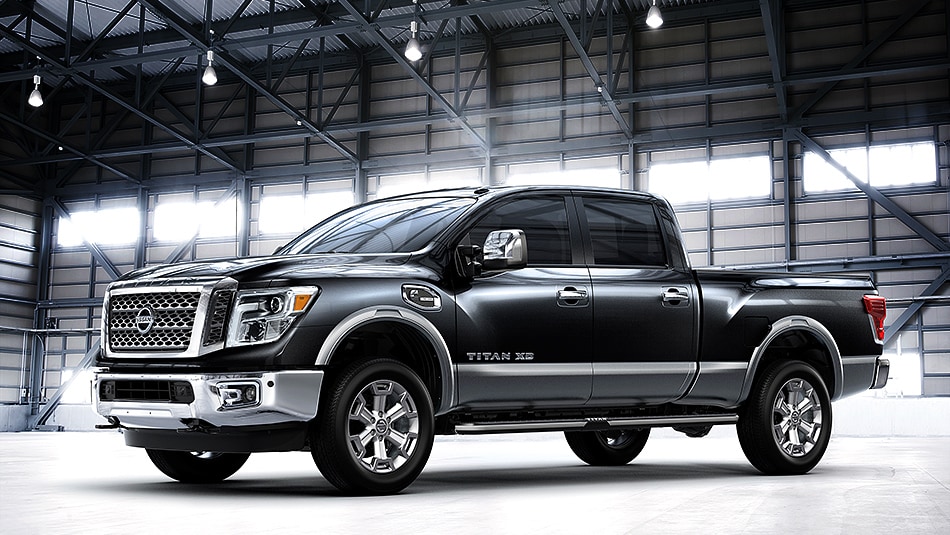 INTRODUCING THE CUMMINS-POWERED 2016 TITAN® XD
The first of a family of all-new trucks with heavy-duty attitude and full-size sense.
Find your 2016 Nissan Titan today at any of our 7 Mossy Nissan locations in San Diego! View Inventory.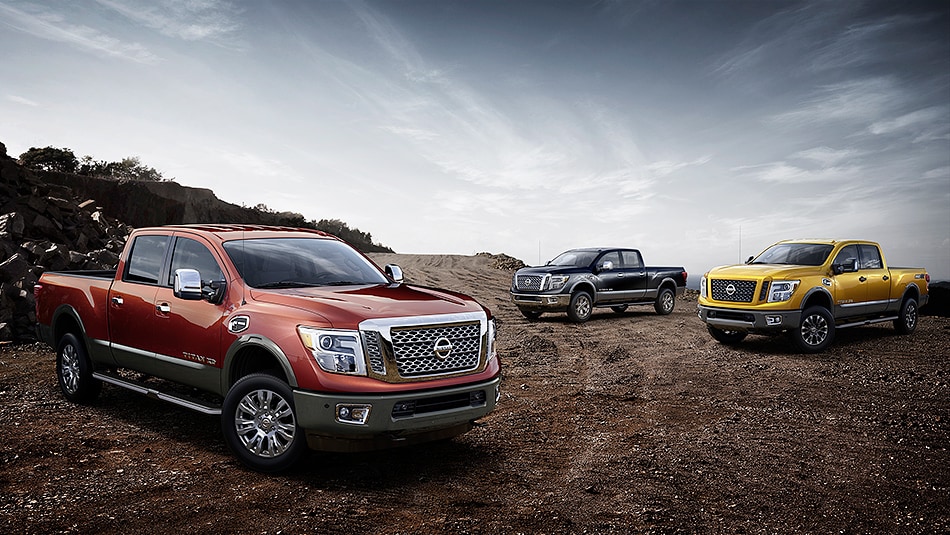 AMERICAN TITAN
DESIGNED IN CALIFORNIA, ENGINEERED IN MICHIGAN
TESTED IN ARIZONA, BUILT IN MISSISSIPPI
POWERED BY INDIANA AND TENNESSEE
WHAT IS XD?
Take a closer look inside, outside, and under the hood at the all-new 2016 Nissan TITAN XD.
ENGINE
310 HP WITH 555 LB-FT OF TORQUE
The all-new Cummins 5.0L V8 Turbo Diesel[*] is the heart of the next-gen TITAN XD. This beast of an engine brings heavy-duty attitude and torque to half-ton pickup territory, and does it with better fuel economy than its gasoline counterparts.
TWO STAGE TURBO
Say goodbye to turbo lag. The Cummins 5.0L V8 Turbo Diesel gets a continuous power boost right through the RPM range, thanks to a first-to-market Holset M2 two-stage turbocharger. You get solid acceleration from the second you put your foot down until you get up to speed.
RESPONSIVE DOHC
The high-revving Turbo Diesel uses Dual Overhead Cams (DOHC) to drive 32 valves (four per cylinder) for precise cylinder firing and maximum airflow through the cylinder heads. The DOHC and the Holset M2 two-stage turbocharger work together to deliver solid performance across the entire power band.
LIGHTWEIGHT CGI BLOCK
The new Cummins 5.0L V8 Turbo Diesel gives you maximum durability and power in a lightweight package. Extra weight was shed by building the cylinder block out of compacted graphite iron (CGI), which is stronger and lighter than traditional iron. Other lightweight engine components were added, like high-strength aluminum alloy heads and composite valve covers.
QUIETER ENGINE
Tough doesn't have to sound rough. The compacted graphite iron cylinder block and dual overhead camshafts contribute to the excellent noise, vibration and harshness (NVH) characteristics achieved by the Cummins 5.0L V8 Turbo Diesel engine.
REFINED WITH HIGH PRESSURE COMMON RAIL (HPCR) FUEL SYSTEM
Forget everything you've ever heard from a diesel engine. The new Cummins 5.0L V8 Turbo Diesel is outfitted with the latest Bosch® HPCR fuel system and piezo-style injectors to deliver precise fuel control and multiple injections per combustion stroke, which increases efficiency and drastically cuts down on 'diesel clatter'.
CLEAN EXHAUST SYSTEM
For decades, diesels had a dirty reputation for being, well, dirty. Technology has fixed all that.The new Cummins 5.0L V8 Turbo Diesel exhaust system has a particulate filter and selective catalytic reduction that enable the engine to run clean. That tech also serves a second purpose - it reduces noise. Power and efficiency is now clean and quiet.
CERAMIC GLOW PLUGS
Even if it gets to -25°F overnight, you still have to get to work in the morning. With advanced Bosch® ceramic glow plugs, you can have your engine firing in less than two seconds even at that bone-chilling temperature. And these plugs were built to last - they'll be around for the life of the engine, with no maintenance.
TOWING
WITH ALL THAT POWER COMES GREAT TOWING
Dropping a Cummins 5.0L V8 Turbo Diesel engine in a half-ton creates enormous towing power[*]. If you're going to use all that power, you're going to need the stability provided by a gooseneck hitch, so we engineered one right into the frame. In early trials held in sweltering Arizona (testing ground for the new SAE J2807 towing standard), we pulled more than 5 tons, and the TITAN XD performed with total confidence.
CHASSIS
GO BIG OR GO HOME
We needed a bigger, burlier chassis to handle TITAN XD's expanded towing and payload potential, so we looked at the battle-tested chassis of the Nissan Commercial Vehicle as a jumping off point. From there we engineered a new frame and chassis and reinforced  them with some seriously substantial components.
BEEFIER SUSPENSION
To improve handling and ride comfort, we designed a new heavy-duty suspension for the 2016 TITAN XD. The double wishbone front suspension was reinforced and tuned, and the back end got a lot more rigid thanks to bigger leaf springs and overhauled leaf bushings.
HEAVY-DUTY BRAKES
We bolted 14 inches of ventilated, hydraulically boosted stopping power onto all four of the TITAN XD's big wheels. They'll stop your truck, but they'll never slow down the job. With brakes like these, you'll always want to be buckled up.
AISIN 6-SPEED TRANSMISSION
To handle the raw power pounding out of the Cummins 5.0L V8 Turbo Diesel engine, we backed it with a heavy-duty 6-speed Aisin automatic transmission[*]. Sure, it might seem like overkill for a light-duty pick up, but the TITAN XD isn't exactly "light-duty".
TOUGH NEW TRANSFER CASE
We strapped a rugged new transfer case on to ensure maximum power distribution in every gear. It pushes torque to both axles, and gives you four-wheel drive whenever you need added traction on snow, ice, sand, mud, muck, dirt, water, gravel… whatever the job site can throw at you.
HIGH-STRENGTH STEEL FRAME
With TITAN XD's imposing towing and payload stats, this is a truck that needs one hell of a backbone, so we gave it a larger high-strength steel, fully boxed, full-length ladder frame. Every component has been bolstered and strengthened for added stiffness, vertical and lateral bending, as well as torsional rigidity.
NEW AXLE AND DIFFERENTIAL
We've swapped out the rear end for a bigger, tougher purpose-built axle from the folks over at American Axle Manufacturing (AAM). This vital component has been proving itself for years in the workhorse lineup of Nissan Commercial vehicles, and it'll have you towing[*], tugging, winching, and pulling pretty much anything you need to tow, tug, winch, or pull.
INTEGRATED GOOSENECK HITCH
There is no better way to say "this thing means business" than putting a gooseneck hitch in the bed of a truck. Even more so when that gooseneck hitch is built into the frame. This gooseneck can handle serious business, and the hitch ball is removable so you can just pull it out when you need a flat bed.
INTERIOR
THE EXECUTIVE SUITE
BRAWN FOR THE BIG SHOT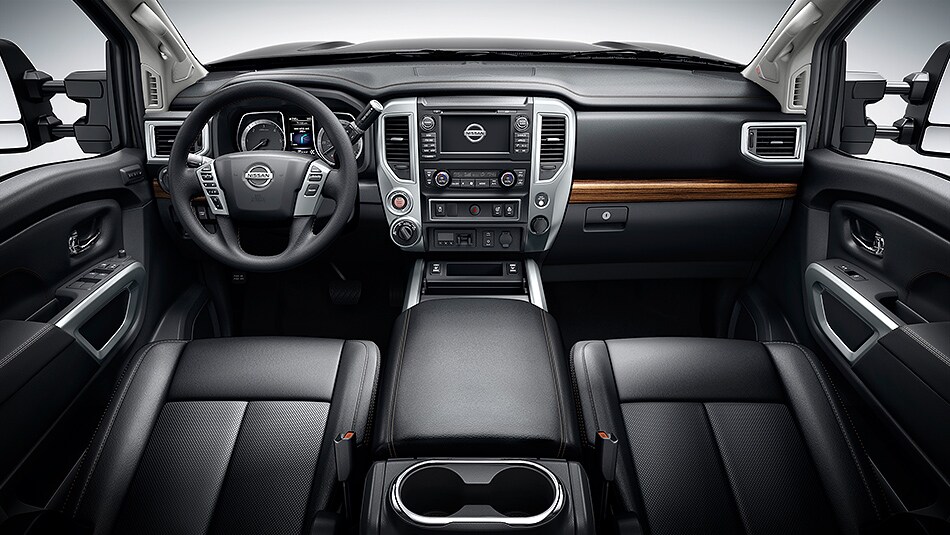 The new class of power meets master craftsmanship in TITAN XD's ultra-comfortable, premium interior. We've relocated the shifter to the steering column, making more room for a massive center console and for more overall space in an already spacious interior. Carefully considered storage features and power sources are placed throughout the cabin. Advanced connective technology helps keep you in touch, while supportive, leather-appointed front seats provide exceptional long-haul comfort.
 CARGO BED
THE RIGHT TOOL FOR EVERY JOB
BECAUSE SHIFT HAPPENS
The all-new 2016 TITAN XD lineup boasts a cargo box loaded with available features. The innovative Utili-track® cargo system features four heavy-duty aluminum alloy cleats that move and lock anywhere along the walls, bed floor and header tracks to give you endless tie-down possibilities. Lockable in-bed storage sits sight-unseen at street level, and flush-mounted LED lighting helps you find that rogue socket wrench in the dark. This is a truck bed that not only lets you work harder, it helps you work smarter. [*]
* Cargo and load capacity limited by weight and distribution. Always secure all cargo. Heavy loading of the vehicle with cargo, especially on the roof, will affect the handling and stability of the vehicle.
LINEUP
THE ALL-NEW NISSAN TITAN XD CREW CAB IS THE FIRST IN A LINEUP OF TITAN TRUCKS THAT WILL BE OFFERED IN MULTIPLE CAB CONFIGURATIONS, POWERED BY CUMMINS DIESEL AND NISSAN GASOLINE ENGINES.
HOW TO GET YOUR 2016 NISSAN TITAN
Contact Mossy Nissan at any of our 7 Mossy Nissan locations in San Diego.